Sharon Gaiptman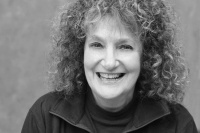 Sharon came to Juneau in 1978 to help put KTOO-TV (or "Juneau's public television station) on the air, serving as its first program director and station manager. Young and ambitious, she thought this would be a quick stop on the broadcasting career ladder, but soon realized she loved Juneau and Alaska more than moving on.

After a couple of other jobs and job-like experiences, she went to the Alaska Division of Tourism where she helped develop the state's trade and international marketing program and serve as its marketing manager.
In 2000, she moved to the Alaska Marine Highway as its first marketing manager, staying there until 2006 when she left the state to work on her own.

Her commercial broadcasting experience began in the early 80's when she joined the late greats, Vern Metcalfe and Steve Agbaba, to help anchor the Golden North Salmon Derby from Auke Bay. From there she spent a bit of time doing Action Line, which is now KINY's Problem Corner. A former New Yorker, Sharon's fondest memories of those days was the challenge of saying "Six-drawer dresser" or any other item with too many "R's".

Sharon continued to report from various Derby locales over the year, but in April of 2009 joined the team at the Juneau Radio Center, producing and hosting Capital Chat. The show, which focuses on community events, social service agencies, other non-profits, and the people who make them happen, now airs on both KINY and again on KJNO.