Pete Carran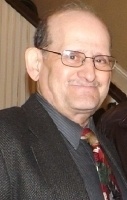 Following his retirement at 4 a.m. on Monday, April 21, 2014 as the Legislature met into the wee hours, former News Director Pete Carran took several months off before agreeing to come back on a contract basis to host the Action Line talk program.

After a nearly 50 year career in broadcast journalism, including the last 25 years in Juneau, Pete decided he needed a break from responding to early morning alarm clocks and trips into the Juneau Radio Center newsroom.

Following his training in journalism and broadcasting at the Defense Information School, Pete arrived in Alaska on January 2, 1968, when the U. S. Army assigned him to the U. S. Army Alaska Information Office at Fort Richardson outside of Anchorage.

Following his honorable discharge in February 1970, Pete worked at various radio and television stations in Anchorage. While working for KTUU-TV, Pete was assigned to cover the 1984 session of the Alaska Legislature. He made the permanent move to Juneau that fall and has been here ever since.

In addition to his Action Line duties, Pete will provide consulting to the Juneau Radio Center newsroom.