Kelly Peres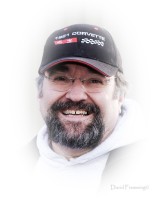 Kelly Peres arrived from Fort Benton, Montana, in Juneau, Alaska 2 days after the State of Alaska first voted to move the capital from Juneau in 1974. He thought it was going to be a short stay in the "Last Frontier". Fort years later, he's still here.
His broadcast career began in Washington State at KRSC in Othello. Because he was operating with an "FCC Provisional Permit" he was also attending classes in Spokane that ultimately required testing for FCC licensing in Seattle. His frequent visits to Spokane provided introductions to some of Spokane's (and later, Seattle's) best radio personalities including Gary Giorgi, Dave Rogers, Randy Evans (Ichabod Caine), Tracy Mitchell, John Sherman and Charlie Brown. It was Gary Giorgi that told Kelly to get his license and "get out of here."
Two opportunities presented themselves, the first in Blythe, California and the second in Juneau, Alaska. The salary was better in Blythe, but the adventure appeared better in Alaska! 4 days later Kelly was the only person manning KINY as the rest of the Air Talent had gone to play a charity basketball game. The adventure had begun!
To date, Kelly has been Air Talent, TV Operator/Camera man & TV Program Director (KINY-TV), Music Director, Public Service Director, Program Director, Operations Manager and Assistant Chief Engineer for KINY and KSUP (MIX 106). He also currently serves as Operations & Program Manager for Juneau Radio Center. (TAKU 105, 630/KJNO, 1330/KXJ, MIX 106 & 800/KINY)