Courtney Nelson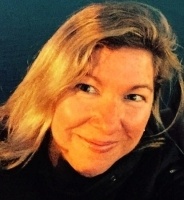 Courtney Nelson was born in La Jolla, California and raised in Los Angeles.

After careers in sales and film production – she heard the call of the wild which brought her to Juneau, Alaska… She wanted to finish her degree in a place where it rains all the time - so she'd actually study!

She worked in the marketing department of the Alaskan Brewing Company while completing her Bachelors in Sociology with minors in psychology and anthropology, and raising her two children, then she switched to writing and reporting for the Juneau Empire, and became an avid blogger.

She picked up side jobs like hospitality head for Juneau Jazz and Classics, kids yoga instructor, travel writer, special education para educator at JDHS, and she has her own production company – Knockout Productions.

She's also the president of the Harborview PTA, Events coordinator for the Glacier Swim Club and a member of the downtown Rotary club. Stop her before she volunteers again!

She's excited to be part of the Juneau Radio Center team!

Listen for Courtney on numerous commercials and as host of Capital Chat.