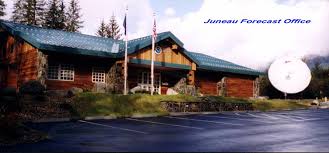 Juneau Forecast Office
Juneau, Alaska (KINY) - The Juneau Forecast Office Friday night canceled the winter weather advisory that was originally in effect until six Saturday morning.
In its statement the weather service said snow showers may continue through the night, but snow totals will not amount to advisory levels.
The original statement that spurred the advisory predicted an accumulation of between 5 to 10 inches.
In addition to Juneau, the advisory included northern Admiralty Island.