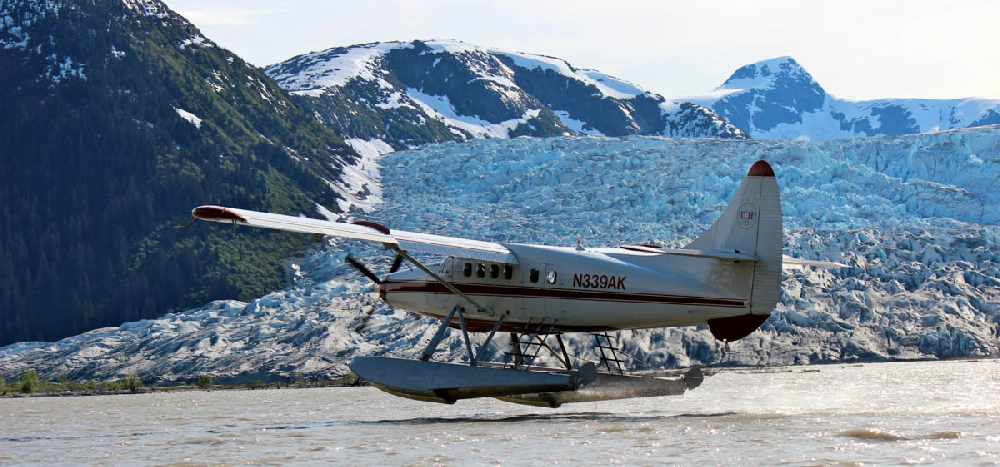 Photo credit to Wings Airways.
Juneau, Alaska (KINY) - A new ownership group has continued the success of one of Juneau's top tourist destinations.
Joe Sprague, CEO of Wings Airways has extensive experience in Alaska aviation. He had a long career with Alaska Airlines before joining Wings as an owner in 2017.
Wings Airways was created in 2002. They have been a long-time, exclusive partnership with the Taku Glacier Lodge. They have a fleet of five upgraded turbine DeHavilland Otter floatplanes and are ranked #2 out of all 85 Juneau outdoor activities listed on Trip Advisor.
A new ownership group formed in 2019 with several existing owners and leaders combining with new investors including the Binkley Family and former Alaska Airlines CEO Bill Ayer.
The new leadership team includes Spray, President Holly Johnson, Director of Maintenance Don Bach, Finance Director Michelle Johnson and Director of Operations Dan Corson.
"It's a neat group that owns Wings Airways. They bring corporate leadership, an understanding of aviation safety, and a great tourism background," he said.
They offer the Taku Lodge Feast & 5-Glacier seaplane discovery, and the 5-glacier seaplane exploration.
The DeHavilland Otters fit up to 10 passengers. It also has a reduced noise Garrett turboprop that significantly reduces aircraft noise on the Juneau waterfront. "The overall noise footprint in the harbor has gone way, way down. Even tourism critics have acknowledged that."
Ken & Michelle Ward celebrated 25 years at the Taku Glacier in 2018. "It is a special place. The personal touch provided by the family makes it even more special."
The lodge, built in 1923, is on the National Registry of Historic Places. It was made famous by Mary Joyce and her 1,000-mile dog sled journey. She was inducted into the Alaska Women's Hall of Fame in 2013.
The local rate for the sight-seeing flight trip to the Glacier is $190.
Sprague said the focus a lot on safety with experienced pilots, a highly standardized operation, and a commitment to safety. They have been recognized as the only Medallion Foundation Shield carrier in Juneau, the first operator of their size to attain the shield.
"It has not been a good summer for floatplane operators. Fortunately, in Juneau there hasn't been a problem."
There have been several plane crashes in Ketchikan this summer involving floatplanes. "All of us in the business take it hard and take it seriously. It has been rough. There is not a common thread among the crashes this summer but they are horrible for those personally involved."
He noted the air services got together in Juneau for two meetings this year to confirm the flight patterns were safe after the incidents in Ketchikan.
The flight dock is conveniently located next to the cruise ship docks. The glaciers of the Juneau Icefield are visible just ten minutes after departing the downtown Juneau floatplane base. Access to the Taku Glacier Lodge is limited to airplanes.
Wings also gave $40,000 in donations to Juneau non-profits, with food donations to the Glory Hall, support for the Juneau Icefield Research Program, they hire and train Juneau young people, and take part in tourism best management practices.
They also recently received the Adventure Green Alaska designation. It is a program initiated by the Alaska Tourism leaders for businesses who practice economic, environmental, social and cultural sustainability.
Sprague pointed out $210 million was spent by tourists in Juneau last year and support 2,000 local jobs. Up to 25% of the sales tax collected in Juneau come from tourists each year. That provides $25 million in local revenue for government services.
Wings was a founding member of the Alaska Alliance for Cruise Travel. "We want tourism to grow but we want it to grow in a smart way where we minimize the impacts."
The fifth annual Chamber Golf Classic is scheduled for Saturday and the Mendenhall Golf Course.