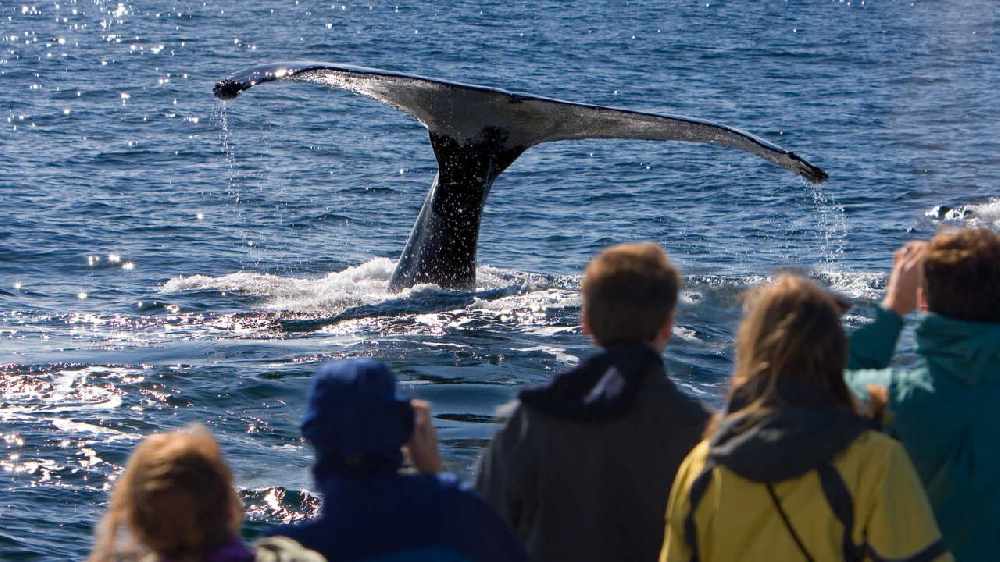 Photo courtesy of Travel Juneau.
Juneau, Alaska (KINY) - Sierra Gadaire of Gastineau Guiding, Suzie Teerlink and Alicia Schuler of NOAA Fisheries, and Matt Creswell of CBJ Docks and Harbors were panelists on the discussion.
Commercial whaling was outlawed in 1966. The population of whales has greatly increased since. Several dozen whales arrive in Juneau each spring.
48 boats are dedicated to providing whale watch tours each year. An additional 15 boats advertise some combination of whale watching and fishing. The maximum daily whale watch capacity is up to 3,000 guests.
The estimated economic impact is close to $40 million annually. The McDowell Group is working on a study, "The Economic Impact of Whale Watching in Alaska."
Schuler talked about the impacts of whale watching on the whales. Food supply, reproduction, travel routes, and habits of whales are measured.
Schuler said when boats are around they do change their speed and routes. They also change the times between trips to the surface to breathe. As the number of vessels increases, there are more changes in the whale's behavior.
"We have measurable changes in the way whales are behaving when vessels are present and also with the number of vessels," she added.
The whale watchers themselves gain a strong interest in guidelines, conservation and regulations. "It provides an opportunity for them to learn more about whales and increases awareness and has a conservation benefit."
People want to get close to whales to see what whales do, like feed, or leap in the water, she added.
Schuler said a survey found the majority of the community does not support an expansion of the whale watching industry and supports more restrictions on the industry.
"There are concerns in Juneau that the whale watching industry is outgrown its capacity and there should be some restrictions," she noted.
The voluntary limits on whale watching include a 30-minute viewing limit on one group of whales, a 200-yard distance from active fishing vessels, a reduction effort for Shelter Island noise and wake, and wake reduction corridors.
Creswell reported Docks and Harbors is adding 1,300 feet of linear moorage at Statter Harbor to accommodate fishing boats and whale watch boats. The current project includes public moorage floats, a commercial and charter float, a kayak ramp, bathrooms, a covered shelter, and a future development area with a separate bus and coach parking area. Dredging of the area is going on now. The construction of two docks and the 1,300 feet of moorage space will start in October.
The plan includes putting the whale watch boats and the parking area away from the public boat launch.
"I think the public will really appreciate the project when they have their harbor back," he added.
Creswell said fishing charters, recreational boaters, commercial fishing fleet and whale watchers are the biggest users of Statter Harbor.
Over half of the whale watch boats launch from private docks that are not under the jurisdiction of the CBJ Docks and Harbors.
Teerlink said federal law prohibits vessels from within 100 yards of a humpback whale. The Whale Sense program provides annual training for crews, conservation messages, stewardship projects, and help to make sure tourists know the best information they have about the wildlife they are seeing and how they interact with their environment.
She noted Juneau has a worldwide reputation as a top location for whale watching.
Gadaire said Juneau had an unusual amount whale calves this past summer.
Ideas to discuss for the community include a whale watching fleet wake assessment study. It could create boat-specific approach guidelines.
Another idea is a whale watching fleet phone app inspired by the Pacific Whale Watching Association.