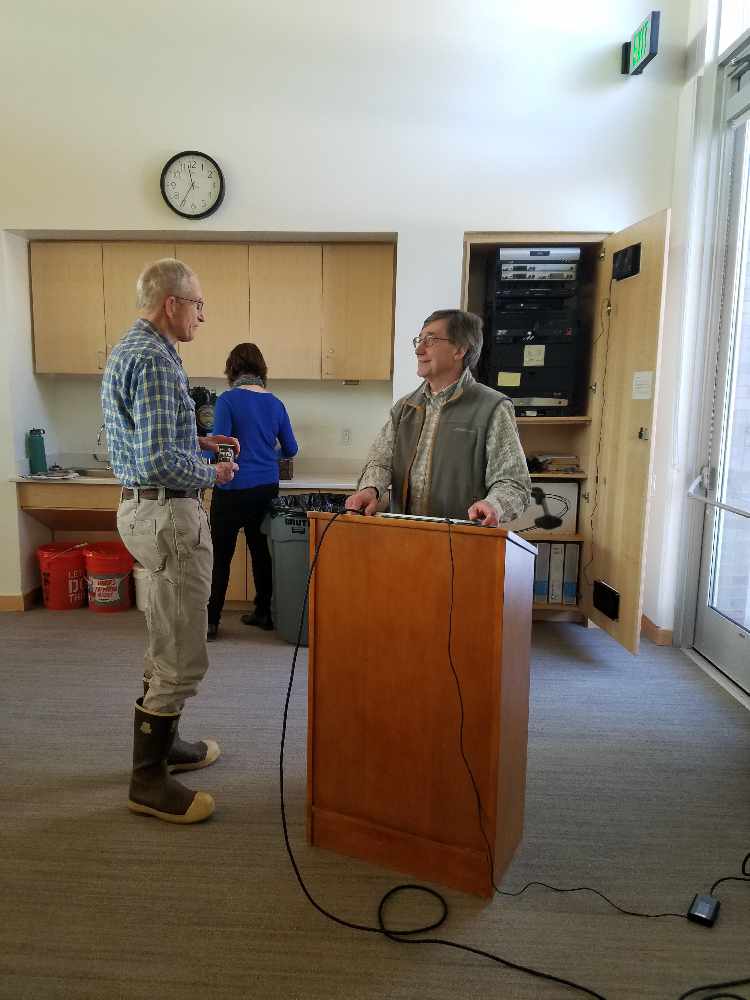 Wayne Jensen talks with a member of the audience after his presentation
As part of the City Museum's ongoing coffee and collections series, Mr. Jensen spoke about the four year renovation project of the capitol building downtown, and the history of the structure.
The original plot of land where the building sits was purchased from a Presbyterian mission for 40,000 dollars, half of which was public donations from people in Juneau, and design for the capitol began in 1923. The parcel had a building on it at the time of sale that was converted into the governor's office, but that office burned down in 1925.
The construction of the capitol building began in April of 1929. The style employed by the federal architects is known as Art Deco.
Mr. Jensen says this style focuses on bold colors as well as accents in the roof and windows.
If you look at the top of the capitol building, you will notice that the roof flares out. This feature is called a cornice, and the original cornice took a lot of damage from Juneau's weather, and was eventually removed entirely. The new cornice was made from precast concrete, and replica art deco features were made out of terra cotta in the original style.
Mr Jensen also noted that before the renovation, the crawlspace beneath the building was so small that old pipes could not be brought out from it, and one of the granite floors at the base of the building were being supported by a single brick. Mr. Jensen said that to create enough space to work, they had to deconstruct an excavator and rebuild it inside the crawl space to begin excavating 60 truckloads of fill.
The capitol building was originally built in February of 1931 to serve as a federal building as well as house the territorial house and senate.
Though the building took four years to renovate, it only took 2 years to build.
The large columns in front of the building are made from tokeen marble, which were harvested from Marble island in alaska, after extra incentive was given to contractors if they used local materials. Tokeen marble from Alaska is also used in the construction of many capitol projects in Washington D.C.
Mr. Jensen said one of the only things left to do with the site is to polish the columns, but this is a task that must be done carefully by hand, a process he said might cost up to $300,000.
Mr. Jensen made every effort to preserve the design of the original building by salvaging bronze letters and wood paneling where possible. While the capitol building is not on the register of Historic places, Jensen said his team treated the building as if it was.