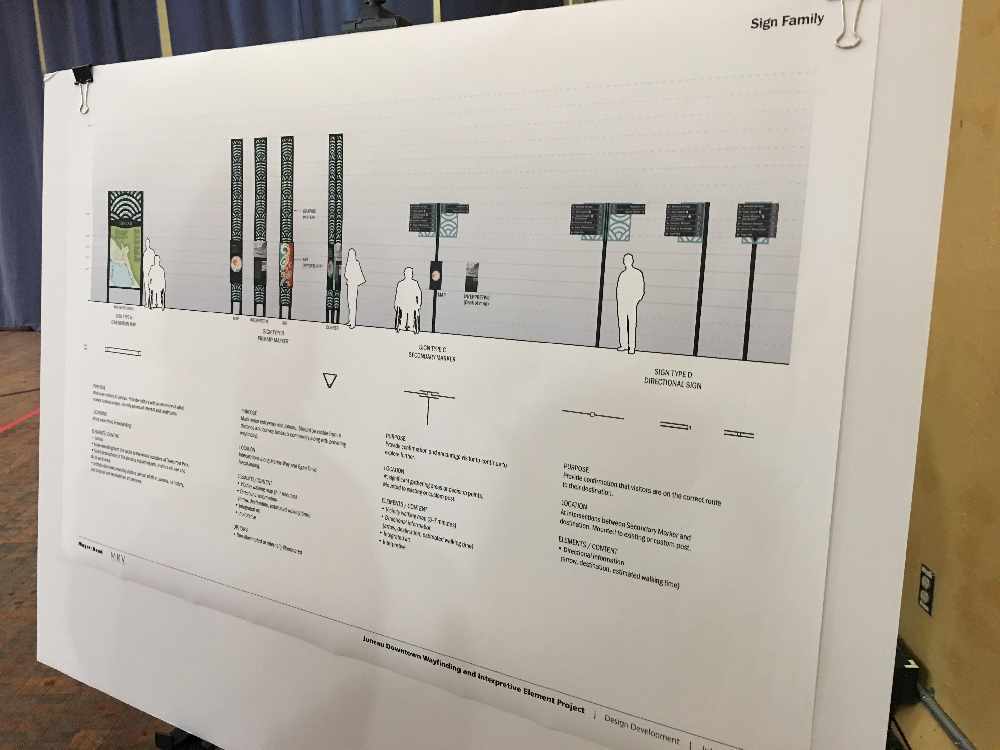 Juneau, AK (KINY) - City officials is looking to update signage in the downtown area to better direct tourists.
This is being done through the Way Finding Project and will be incorporating a mix of four different sign types that also tell the narrative of Juneau's varied history. It's being done through CBJ efforts, Portland based Mayer/Reed, and MRV Architects.
We talked to Project Manager Lisa EaganLagerquist and Kathy Fry with Mayer/Reed about the project.
Kathy Fry told us that they want the signs to also tell the story of Juneau.
"It's a comprehensive wayfinding system that starts with an orientation map that starts at the docks and then we have a sign family that includes some primary markers and then directional signs downtown."
"The system also includes interpretive stories, which we think is important to tell the story of Juneau in a really authentic way."
The goal is to ensure that visitors be able to get to where they want to go easily.
"Some of the goals include moving people throughout downtown so that visitors are finding the destinations they want whether they are looking for cultural institutions or if they just want to find great places to shop and eat. We know that Juneau has a lot to offer and we want people to be able to find what resonates with them, but we want to do it in a way that is authentic to Juneau."
We asked about if Tlingit design would come into play. Fry also told us that they could be able to support local artwork on some of their signs.
"Some is just in the form; there will be a graphic pattern element that is consistent throughout the wayfinding system and that's still under development, but we're looking for something that speaks to all of the stories in Juneau. The Native story, but then also Filipino and the mining history, the art deco and the historical context of downtown."
"We're also looking at how a call for art could be included in some of the panels. We could get artists to do pieces that would support the interpretive stories."
They are using Tlingit names of places on the larger sign and that they also want to highlight one of the more unique aspects of Juneau.
"Another really important piece is the orientation map that visitors will first experience at the docks. On the map we're including Native names for landforms and I think that that is really important to tell the layering history and how those are really important today."
"We're also interested in including the original shoreline on that map to show that there's a story that's earlier than what is seen today. The story of how that landform has evolved over time is important to Juneau."
We asked if there was any effort to digitize these maps in the form of a cellphone app.
"At this point, this project is focusing on the physical signs around town, but what might happen in the future is up in the air, but an app isn't a part of this project for the next year."
Fry said that one thing they are hoping to get from a grant is the ability to add audio to some of the signs.
"We've talked about some really exciting opportunities for the system to grow over time. We talked about seeking out grants that would add audio to the interpretive stories. Maybe people would be able to hear the Native languages or stories of different people who have lived here for a while. That's something that the system will be designed to consider, making it changeable."
There will be a second meeting at the Marine Park Pavilion where people will be able to see sign mockups. That will take place on Wednesday at 11am-2pm.
Find the designs in a full report on the CBJ Engineering website or by going here directly.
Public commentary is open until July 20th, which can be emailed to LisaEaganLagerquist@Juneau.org