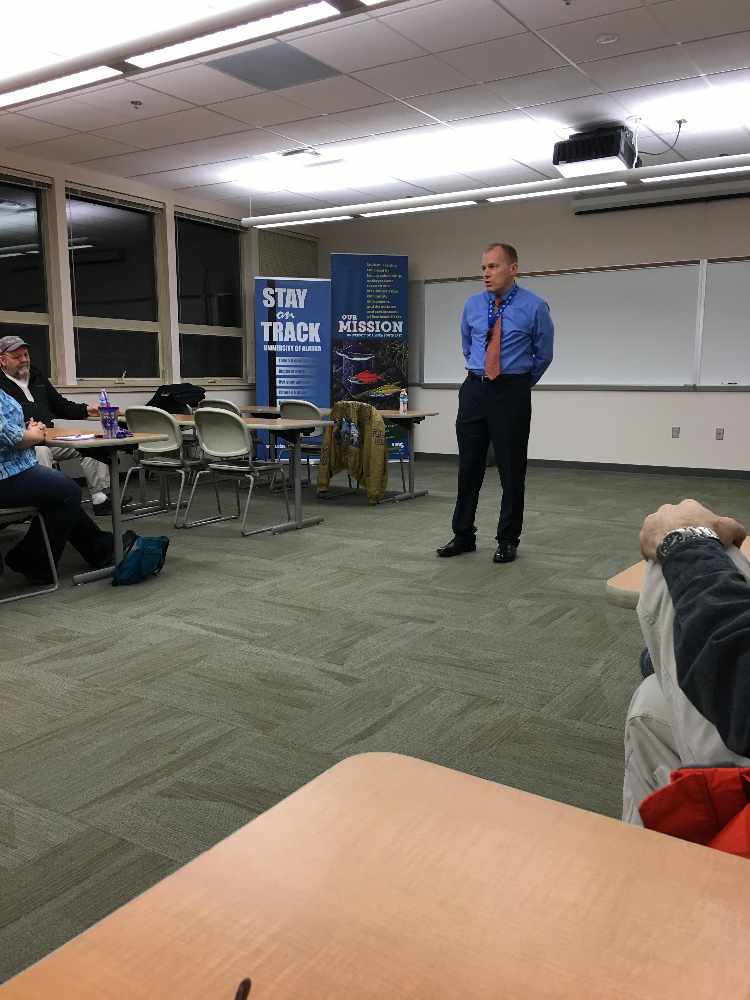 Dr. Timothy Ballard answers questions at the Veterans Town Hall Tuesday
Juneau, Alaska (KINY) Veterans talked about more community outreach, better access to health care, homeless veteran issues and recent trends in health care at a town meeting at UAS last night.
Currently there 90,000 veterans in Alaska but only about 35,000 enrolled in VA system. Outreach has been a problem in Alaska. For example in a recent survey in Prince of Wales Island they had 500 veterans but only 100 signed up for VA health care.
Director of the Alaska Veterans Administration Health Care System Dr. Timothy Ballard hosted the meeting and emphasized outreach and followup as the way to meet the needs of veterans in Southeast Alaska. "We must follow up or we disenfranchise veterans."
He admitted the remote villages pose a challenge but the federal government has recently approved the hiring of 100 new workers in the VA in Alaska. That will give the system 650 workers. That still is below the 760 workers they are allowed. "In Alaska we are woefully understaffed. "We are trying to re-purpose more of our funds to hire staff. Many of our staff are way over worked. We need to address that need. We have creatively freed up funds to hire new staff."
Ballard said there has been real improvement in VA health care services. They have a new provider at the Juneau Clinic. They also recently renewed agreements with Tribal Health Care Agencies until June, 2019.
Dr. Ballard said one area of focus is prevention of veteran suicides. 20 veterans kill themselves each day in the United States. A vast majority, 70-percent of them have never enrolled for VA services.
Veterans and residents on hand had questions about spousal benefits, finding housing for homeless veterans, and getting quicker referrals.
They are also building new facilities in Alaska that includes a long term care facility.
They also play a public outreach event in Juneau in the new year.

"I think its great. Any opportunity to meet with veterans and convey information is always wonderful. There is always a need to share information," Ballard said.
Ballard has been holding meetings like this around the state each month.