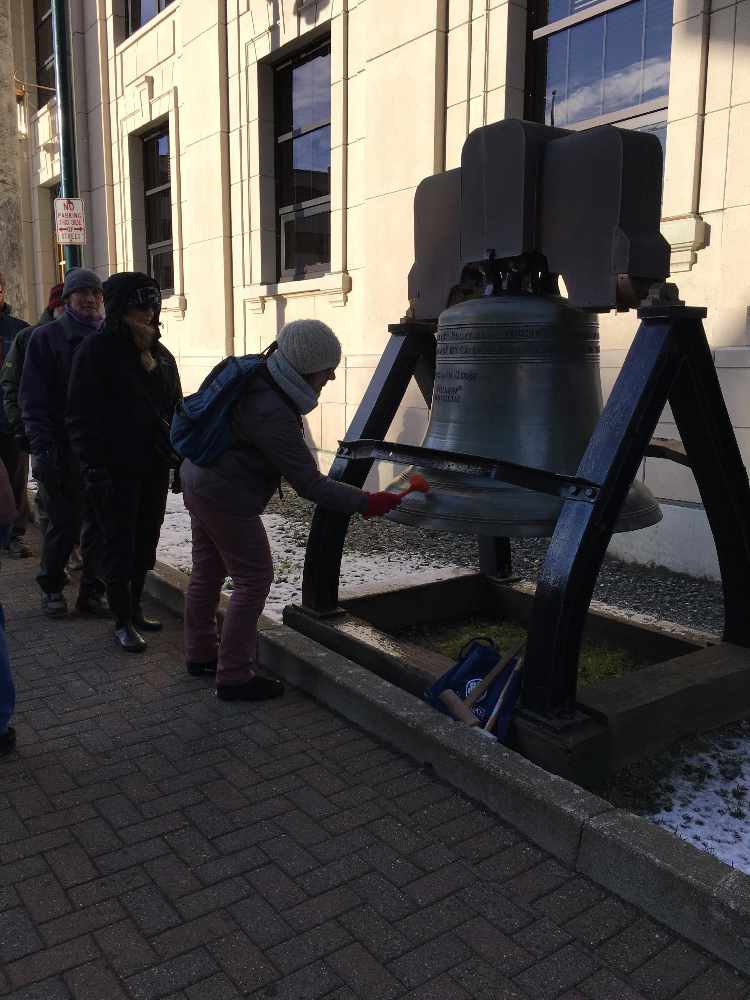 Residents were invited to strike the bell at a brief ceremony Saturday
Juneau, Alaska (KINY) The ceremony at the capitol on Veterans Day was designed to mirror what the original intent of Armistice Day was.
Armistice Day was commemorated on November 11, 1917, at 11 am to signal the end of World War I.
Veterans for Peace in Juneau held a brief ceremony on Veterans Day to remember one of the main purpose of veterans, to bring peace into the world.
Phil Smith said the event went quite well, "We just came up with this idea about 10 days ago. We didn't have a huge extensive advertising campaign. I was pleased to see people show up, local elected officials, the legislative delegation, it was good."
He said they wanted to remove the focus of the day to the original purpose, a celebration of peace, "Our country has been in the grip of militarism and saber rattling of late with the North Korean situation. We felt it would be good to pause on this auspicious day, return our thoughts to peace and reconciliation, and seek to find peace in our own hearts, and in our own community."
Smith said they are against war but they also want to seek brother hood and love and all the sentiments that they felt are worth promoting.