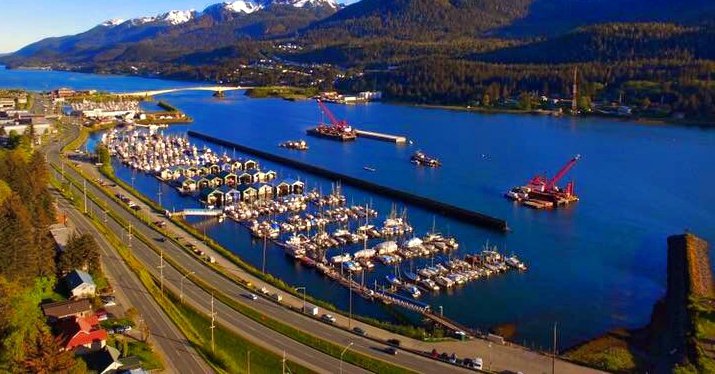 Juneau, AK (KINY) - The Uplands Master Plan was presented to the Planning Commission on Tuesday evening, a plan that is looking to expand the area next to the Yacht Club at Aurora Harbor.
There is a possibility of being able to use dredged materials to build up the Norway Point area with the idea coinciding with dredging that will happen next winter.
Port Director Carl Uchytil summarized the plan's current state.
"For the Upland Master Plan for Aurora and Harris Harbor we are still in that planning effort. We've got great ideas. We still need to secure some grant funding and we were unsuccessful this past fiscal year for Tiger Grant funding, but we will continue to apply for that opportunity."
He then further explained the financial side of things.
"The Omnibus that was passed by Congress last week triples the amount of Tiger Grant funding that will be available and available for us to compete for in the upcoming fiscal year. So we continue to be cautiously optimistic that we will have money to really make some noticeable changes for Harris and Aurora Harbor."
Uchytil also explained a creative way to use dredge materials to create more space.
"We are also looking at the opportunity of expanding the Norway Point area through a federal program called Beneficial Use of Dredge Material and the plan as we work with our Corps of Engineers partner is to dredge Aurora and Harris Harbor in the winter of 2019-2020 and I'm going to ask the corps to consider using a method to place those dredge materials upland near the Norway Point area that will expand our Parkland area there and also perhaps move the grid the tile grid from Harris Harbor to Norway Point."
Lastly, we asked him what the next steps in these docks projects will include.
"We pursue funding based on the available grant opportunities. We will be pursuing the recapitalization of the 55-year-old Aurora Harbor infrastructure, which we got 1.5 million through the 1% sales tax initiative. We're finishing up the Aurora Phase 2 project which is E, F, and G floats and that should be complete next week, so I believe that what I'd like to do is see the remainder of Aurora Harbor demolished and rebuilt in some manner congruent with the Corps of Engineers dredging projects. "
Find the full Upland Master Plan, as well as other projects being worked on by CBJ Docks and Harbors on their website.