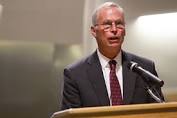 University of Alaska President Jim Johnsen
Anchorage, Alaska (KINY) Low high school graduation rates and low rates of college entry are among the concerns for the future listed by President Jim Johnsen in his annual 'State of the system' address.
Johnsen listed other concerns as a sluggish economy and cuts in state aid for education, "The state fiscal uncertainty has had terrible effects with four straight years of funding cuts. Consequently this has reduced our ability to carry out our mission for Alaska."
Johnson said the cuts are hurting the system, "We should be concerned because our state since 2014 has disinvested in higher education. The cumulative cut has been $145 million. We have 1,283 fewer faculty and staff working at the university."
Johnson said there are other reasons for residents of the state to be concerned, "These cuts hurt badly. The greater impact to us at the university is the impact to the state and our reduced capacity to meet our large unmet needs for education."
He mentioned a high unemployment rate, high costs for health care, energy and food, high crime rates, low high school graduation rates and low college completion rates.