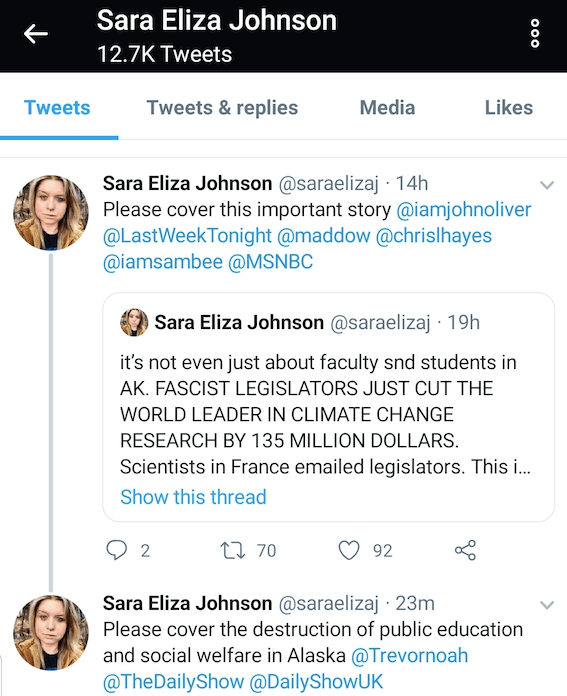 A screenshot from Johnson's Twitter account.
Fairbanks, Alaska (KINY) - A professor at the University of Alaska Fairbanks is calling on nationally-known comedians and pundits to report on the budget cuts instituted by Gov. Mike Dunleavy.
Sara Eliza Johnson, a professor of creative writing at UAF, has in recent days turned to social media on Twitter and Facebook to call on acts like Jon Stewart, Samantha Bee, John Oliver, and Trevor Noah, asking with them to report on cuts to the university.
She also reached out to pundits Chris Hayes and Rachel Maddow at MSNBC.
In a post on her personal Facebook page from Saturday, July 13, Johnson wrote, "What is happening to the University of Alaska is not even just about faculty and students in AK, and our suffering. FASCIST LEGISLATORS JUST CUT THE *WORLD LEADER IN CLIMATE CHANGE RESEARCH* BY 135 MILLION DOLLARS. And the cuts are immediate. There are federal research dollars and private-sector research dollars already invested in projects here. Scientists in France emailed legislators expressing their concern. This is truly truly insane and no one is paying attention."
In addition to her teaching role, Johnson is a published poet and winner of the 2013 National Poetry Series.