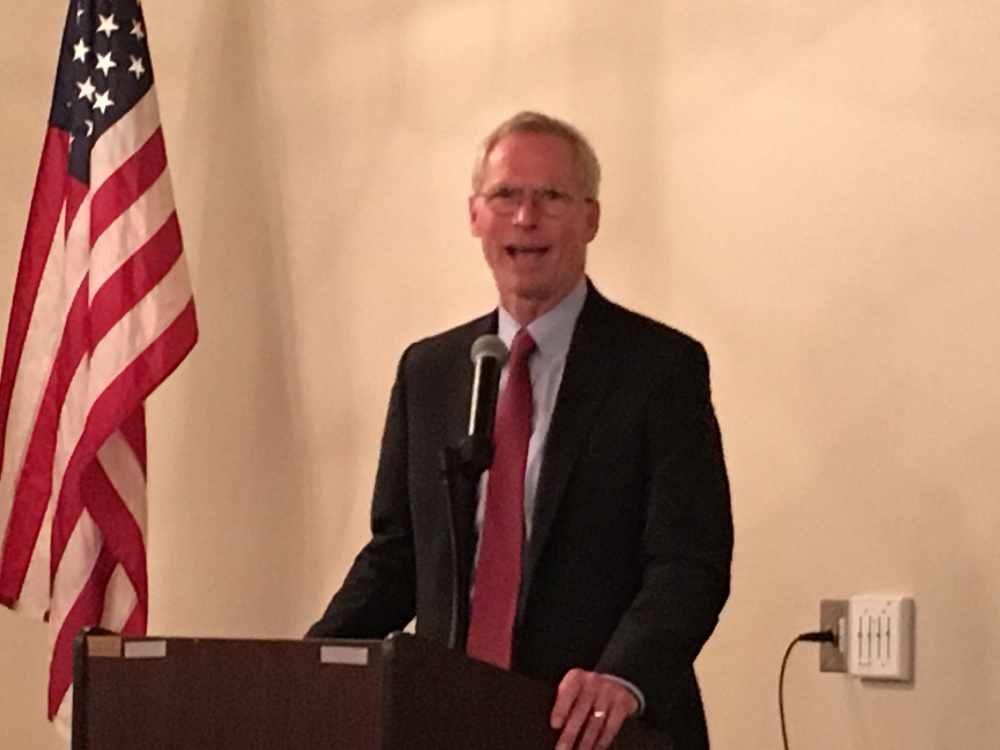 Juneau, Alaska (KINY) - Jim Johnsen updated the community on the new School of Education, budget cuts, and the future during a speech at today's Greater Juneau Chamber of Commerce business roundtable luncheon.
Laraine Durr announced before the speech that 170 donors in Juneau have raised just over $1 million dollars as a University of Alaska Southeast Endowment.
The funds come at a good time as the legislature has continued to cut budgets for the university, at a loss of some $195 million over the last five years. The system also has a list of deferred maintenance projects that have not been funded.
Jim Johnsen said the legislature did increase funding by $10 million for programs and $5 million for capital projects in the 2019 budget, which could be a sign of better things to come.
The system has cut 1,200 employees and cut close to 50 programs to handle the budget cuts. The Board of Regents meets in Juneau today and Friday; a big item on the agenda is budget planning for next year.
The regents will also hold a public gathering at the UAS Recreation Center this afternoon at 5:30 pm.
Johnsen says that the university continues to grow in importance. He noted the state has the lowest employment rate in the nation, the lowest rate of students going to college, the lowest number of high technology exports, and other problems. A McDowell Group survey funded by the University found residents were mostly concerned with crime rates and the growing costs of energy and health care.
The state also needs research into problems like how to get more oil out of Prudhoe Bay, a full fiscal plan, how to stop the loss of Native languages, and declining salmon runs.
On the positive side, there were more Alaskans hired to be teachers this year in the state. The rate was 30 percent in 2017 and 33 percent this year. The University wants to have 90-percent of teachers in Alaska be state born by 2025.
Another area of concern is finding nurses to fill an increasing number of vacant positions.
Student enrollment also continues to decline by about four to five percent per year.