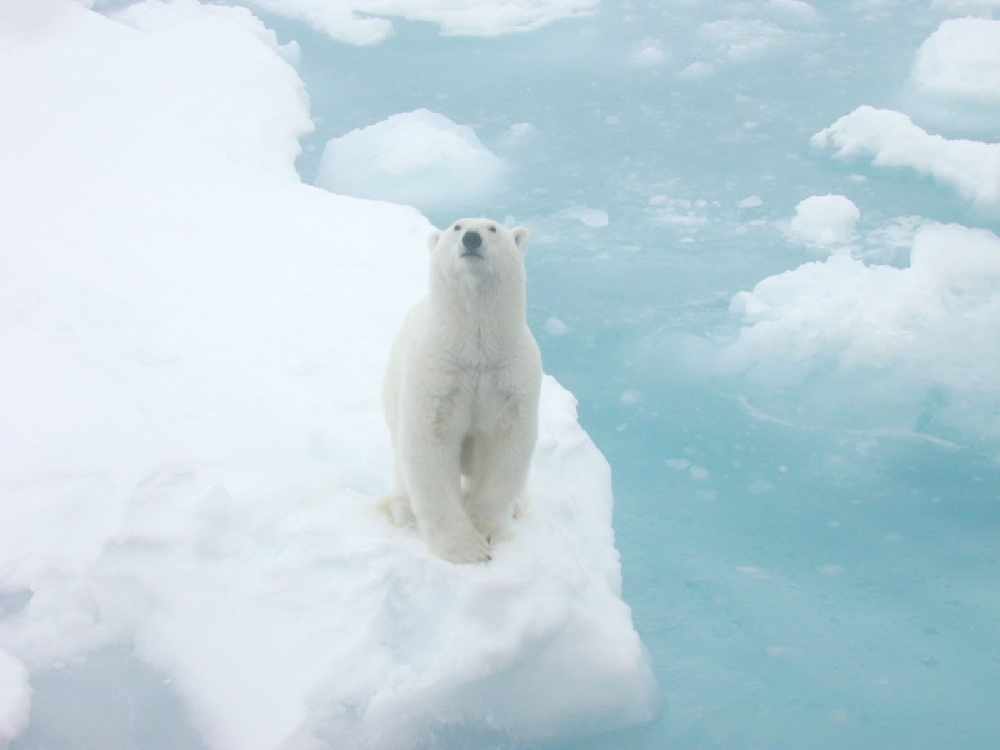 Chukchi Polar Bear courtesy of NOAA
Anchorage, Alaska (KINY) - U.S. District Court Judge Sharon Gleason ruled against the Alaska Wildlife Alliance and in favor of the U.S. Fish & Wildlife Service Wednesday when she upheld a federal regulation that allows incidental harassment of polar bears for oil and gas activity, finding that the activities would affect small numbers of polar bears and have a negligible impact.
This information is a press release from the State of Alaska.
The order allows oil and gas activity to continue.
Gleason also found the methods do not violate three federal environmental acts: NEPA, (National Environmental Protection Act) MMPA, (Marine Mammals Protection Act), and the Endangered Species Act.
"The State is pleased that the court recognizes that oil and gas activities in Alaska's North Slope in the South Beaufort Sea have a negligible impact on a small number of polar bears," said Alaska Attorney General Treg Taylor.
Alaska Wildlife Alliance v. U.S. Fish and Wildlife Service and Alaska Oil and Gas Association is a lawsuit brought by many environmental groups that challenged what's called the ITR, Incidental Take Regulation, for five years for some 20 million acres of the South Beaufort Sea region.
The ITR is required by the MMPA for oil and gas activities to occur. This ITR would cover the Willow Project if it's developed in the next few years.
ITRs have been in place in Alaska since 1993 to allow incidental harassment, with mitigation and reporting requirements, during oil development and operations.
The lawsuit challenged the level B harassment authorization for oil and gas companies operating in the area, which refers to acts that have the potential to disturb (but not injure) a polar bear by disrupting behavioral patterns, including, but not limited to, migration, breathing, nursing, breeding, feeding, or sheltering.
The term "take" can mean an interaction with a bear where a human changes the bear's behavior such as if a worker is driving down a road and causes a bear to change its direction that is considered a "take."
Several mitigation measures occur during oil and gas development including den-detection surveys and an established one-mile exclusion zone around all known polar bear dens for certain activities, as required by the ITR.
Alaska Commissioner of Fish and Game, Doug Vincent-Lang remarked, "While we remain concerned that the predictive model developed by the USFWS significantly overestimates the incidental lethal and non-lethal takes (harass or change behavior), we are pleased the Court agreed that the current model allows oil and gas activities to continue. The appropriately managed oil and gas activities on the North Slope do not threaten the conservation or sustainability of polar bears. ADF&G is continuing its efforts to address inappropriate assumptions in the USFWS model that are leading to the overestimation of takes."
The judgment lays out "in making its negligible impacts determination, the agency identified and discussed the following factors that it considered: (1) that there are relatively few animals in the proposed areas of industry activity, such that "few animals are likely to be affected"; (2) that documented impacts of previous industry activity demonstrated that "[t]he vast majority of reported polar bear observations have been of polar bears moving through the Beaufort Sea ITR region, undisturbed by the Industry activity"; (3) that the footprint of proposed industry activity is expected to be small relative to the range of the polar bear stock; (4) that the Service "does not anticipate any lethal or injurious take that would remove individual polar bears . . . from the population or prevent their successful reproduction"; and (5) that "[m]itigation measures will limit potential effects of Industry activities."
In the judgment, Judge Gleason wrote, "[W]e have concluded that the authorized taking of . . . polar bears during the activities proposed by Industry during this 5-year rule will not adversely impact the survival of these species and will have no more than negligible effects."