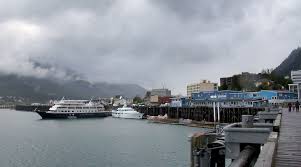 Downtown Juneau, where cruise ships dock in the summer tourist season.
Juneau, Alaska (KINY) - The Tourism Best Management Practices organization has confirmed that two smaller cruise ship companies, UnCruise Adventures and Alaska Dream Cruises, are planning on sending ships into Alaska for the 2021 summer season.
UnCruise Adventures is planning to deploy six small, US-flagged vessels in the state. The first departure will be from Juneau on May 16 and the last will be sometime in October. They said they may deploy an extra ship if sales go well, for a total of seven vessels.
Alaska Dream Cruises will also start in mid-May and go until at least mid-September. They are planning on deploying six small vessels for 11 different itineraries around Southeast Alaska.