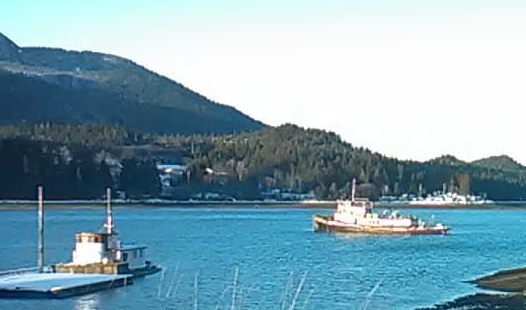 A view of the Lumberman as it sits near the Juneau Yacht Club on Sunday morning. (Photo by Greg Knight)
Juneau, Alaska (KINY) - The perennially troubled tug boat broke free of its anchor point at around 5 p.m. on Saturday night.
The vessel, which had been anchored on state tidelands in the middle of Gastineau Channel, now sits near the Juneau Yacht Club and Norway Point, close to shore.
Docks and Harbors chair Don Etheridge said high tides and high winds caused the vessel to become adrift and drag anchor. He says the situation is a developing one.
"We haven't got the next step put together yet," Etheridge said. "She came loose because of the high tide and strong winds, around 80 miles an hour in some of those areas last night. We got the notification at about 5 p.m. Saturday she was on the move."
And Etheridge says the city has notified a number of outside agencies, including the U.S. Coast Guard, Juneau Police Department, and a towing company.
The previous location of the vessel was on state tidelands. Etheridge says he isn't sure if it's now on CBJ tidelands.
"I'm not sure where that line is," Etheridge said. "I think it is [on city property], but I'm not sure yet."
If it is, however, Etheridge says the city could possibly seize the vessel.
A new CBJ ordinance, enacted in February 2018 and modeled after Alaska Statute, now enables CBJ Docks & Harbors to assert authority on vessels anchored on CBJ submerged lands.