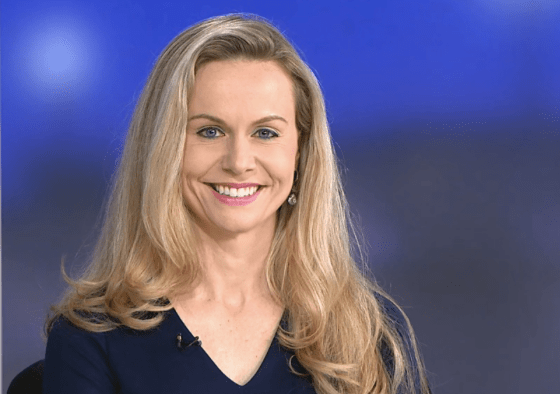 Department of Administration Commissioner Kelly Tshibaka.
Juneau, Alaska (KINY) - The Alaska State Department of Administration's most recent newsletter appears to make a differentiation between loyalists and those who question the administration of Gov. Mike Dunleavy.
In her July 3 newsletter to department employees, Commissioner Kelly Tshibaka calls long-term employees of the administration "WeBe's Waiting in the Wings."
According to Tshibaka's writing, in every government agency, state, local or federal, there are employees who have been in place for many years who believe they'll be around after a new administration is gone.
"I say this, having been a government employee all my career, I've heard that here at the Department of Administration, these employees call themselves the 'WeBe's,'" Tshibaka wrote, as in, 'We Be's here after You Be's gone.'"
"We Be's seem to generally fall into two groups," Tshibaka continued. "One group actively opposes, resists or undermines the new leader(s). There are not many of them, and experienced supervisors can handle them with [human resource] actions. The majority of We Be's, though, are in the other group. They keep a low profile, don't rock the boat, and mostly just get by day in and day out. They often feel disengaged, usually because they tend to suffer from change fatigue from all the bosses/leaders/administrations they've served."
Tshibaka goes on to write, "Well, 'We Be' ... the new administration and we see you, we acknowledge you, and we want to hear from you. We need you in the fold, engaged, excited and participating in enriching the workplace that you've called your own for so long. Your perspectives matter! You have been here, and you have seen things that have almost worked, things that would never work, and you have ideas that have never been heard. For the newbie's, you matter too because with you come fresh eyes, a different perspective, apart from the status quo. We will need both views to accomplish all we have set out to achieve together."
Tshibaka also said now is the time for those long-term employees to be, "proactive, excited, and engaged; it is time to wholeheartedly join the team we like to call the Department of Awesomestration by contributing your unique ideas."
In order to facilitate this objective, Tshibaka said she is providing two new avenues. First, she is inviting all administration employees to submit ideas about how the department can function better to we.be-ideas@alaska.gov.
"Our office will be monitoring the account, and the ideas we receive will be shared with leadership," Tshibaka wrote. "While we can't take every idea and make it so, it is our confidence that your ideas will contribute to our department's most meaningful solutions. So, please do not hesitate; take the time to put words to your ideas, big and small, and send them our way."
Second, the commissioner's office will be sending out a short survey asking for input and for ideas. According to Tshibaka, the survey will provide an opportunity for open-ended feedback on the way the department does business and will be anonymous.