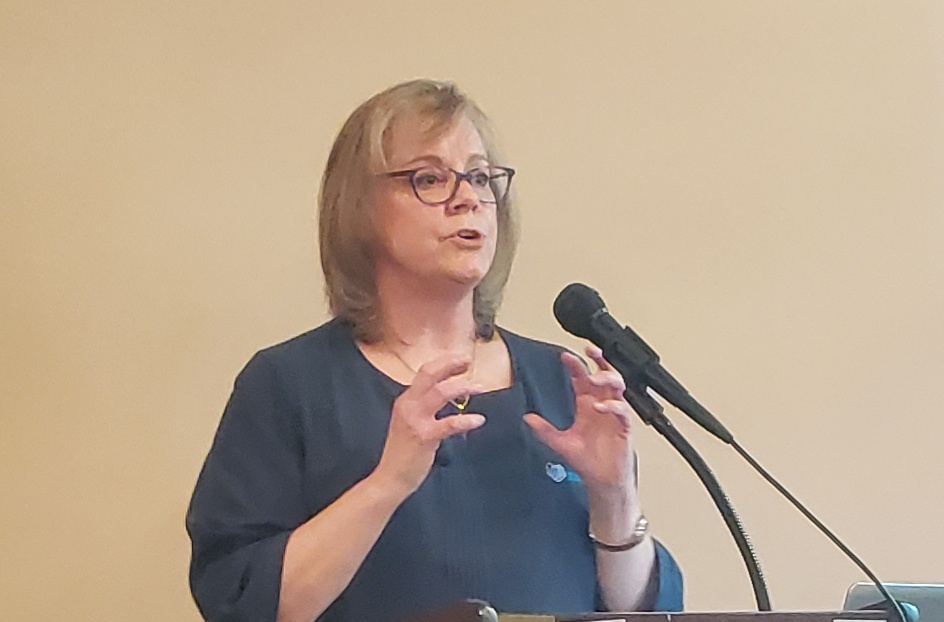 Juneau, Alaska (KINY) - The Destination Next survey was explained at the weekly meeting of the Greater Juneau Chamber of Commerce.
The featured speaker was Executive Director Liz Perry.
Perry said bringing in as many independent travelers as possible are one of the agencies main goals. The official mission is to market Juneau to conventions, groups and independent travelers.
Some funding comes from a grant from hotel bed taxes. They get a grant from marine passenger fees. They also get ad revenue from various marketing efforts.
The top locations visiting the Travel Juneau website include Australia and Germany.
A McDowell group study of meeting planners found spending totals $1,720 per attendee per event in Juneau. This includes lodging, catering, retail, and ground transportation.
"They were pleased overall with Juneau and found us to be a very friendly place," Perry added.
Centennial Hall renovations are on the table. The survey found some deficiencies with the facility due to a lack of space. Prospective users requested better lighting, and noise abatement.
With 1.3 million people expected to visit Juneau in 2019, it is very important to please them so they come again and also spread the word about Juneau as a top tourist vacation to others.
The Destination Next survey showed mobility and access was the most important consideration for travelers. Air access was second, convention and meeting facilities third, and brand fourth, "Brand is the reflection of how we feel when were here, in other words what's it like to live in Juneau."
The perception is Juneau does a good job expressing what Juneau is and what to expect when you get here, but there is work to do. Meeting and facilities got the lowest score.
Getting around town and creating signage ranked high, while bicycle transportation got a lower score.
Overall air access is good with daily flights from Alaska Airlines and Delta. Juneau International Airport as a facility got a good score especially with the beautiful views. International access via planes got a lower score.
On convention and meeting facilities, Juneau received good marks for off site venues for special events. There was a lack of convention, meeting and trade show facilities.
Juneau had good marks for being a healthy outdoor destination with a lot of things to see and an appeal to a wide range of visitors.
On local community support, businesses have a general understanding and positive perception of tourism, and great corporate support. There is a need to educate the general public more on the value of tourism.
There was a community perception that we offer really poor customer service, Perry added.
The most important issues facing Juneau include an increase in marketing to attract more independent and off-season travelers, development of new infrastructure for independent travelers, challenges with determining the future of Juneau Arts and Culture Center, missed opportunities on the waterfront, a need for more events, instability on ferry funding, and an increase in stopover flights between Washington and Anchorage.
Perry also listed things to work on. Travel Juneau needs to develop a stronger brand identity for Juneau to differentiate against comparable locations. Competitors include other sites in Alaska, Iceland and Australia. Another goal is to increase marketing to drive new shoulder season business and attract more independent overnight travelers, and increase communication with local residents so the community better understands the issues facing the local visitor economy and how Travel Juneau is addressing those and developing new strategies.
Shoulder season means the travel period between peak and off-peak seasons.
Assembly member Wade Bryson said the CBJ is considering budgets for Travel Juneau. $120,000 for marketing has been proposed. The CBJ Assembly Finance Committee will discuss the proposal on May 15.
In other actions;
There will be a salute to the Armed Services on Saturday from noon to 4 pm at the Alaska National Guard facility in Juneau.
The Alaska Committee appealed to Juneau businesses to support Gavel Alaska. An estimated $40,000 is needed in advertising revenue. The annual cost of the service is $705,000. 50-percent of the cost is funded by the CBJ. The state provided a $75,000 grant this year.
Construction Egan Drive from 10th to Main is expected to begin soon. Construction is expected to begin in mid-June.