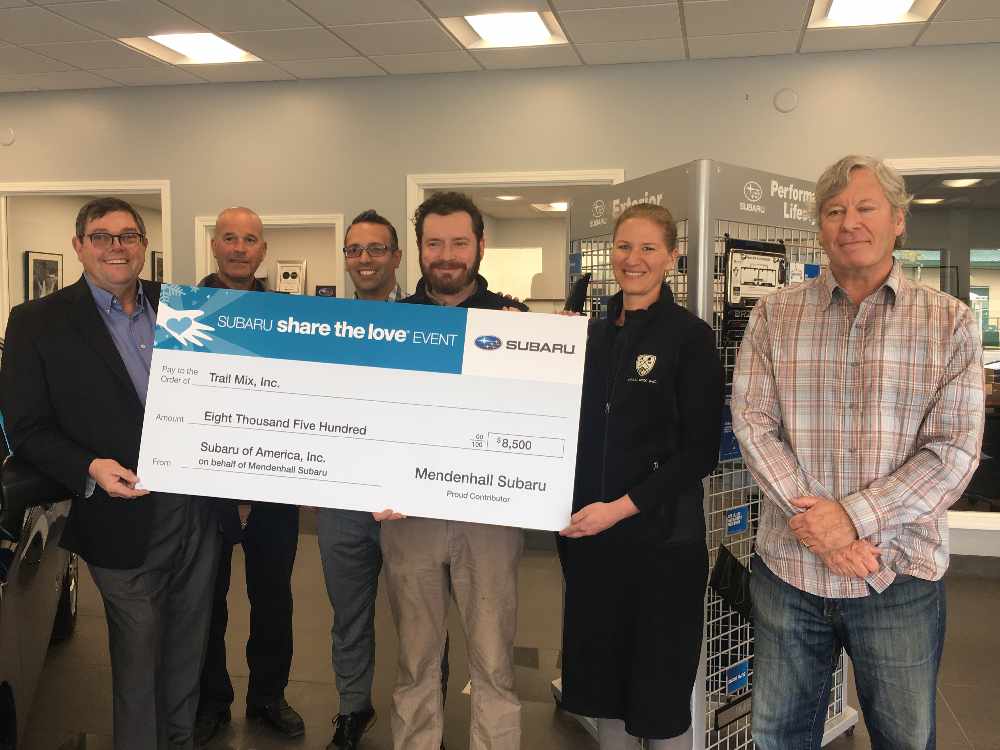 (L-R) Mendenhall Auto Center President Steve Allwine, Mark Troupin, Phil Saraceno, Erik Boraas, Rebecca Hall (President of Trail Mix) and Jack Kreinheder of Trail Mix.
Juneau, Alaska (KINY) - A check for $8,500 was presented by Mendenhall Auto Center President Steve Allwine to Trail Mix Executive Director Erik Boraas.
Trail Mix is made up of volunteers who for the past 26 years have helped maintain over 200 miles of world-class trails in Juneau.
Those efforts caught the attention of the Subaru Feel the Love Campaign. They presented a check of $8,585 to the group last year.
Boraas said donations like this are vital to their mission, "It would be very hard for us to keep the lights on otherwise. Grants are how we build the trails. Getting the money to fix equipment, buy new tools, that is a bigger priority for us. We can get grants but its hard to get money just to keep going."
Projects this year include the Treadwell Ditch, replacement several bridges, and revitalization of the Horse Tram Trail from the Eagle Valley Center to the Boyscout Beach Trail.
The Share the Love Campaign has given over $88,000 to local causes in recent years.
Allwine said they have provided over $17,000 to Trail Mix in the past two years. "This is an organization that really does serve the community at a grass-roots level and we are just happy to be involved."
Trail Mix also plans a community event for June 1, National Trails Day. More information is available at trailmixinc.org
They will fix a washout on the Montana Creek Trail starting at 9 am.