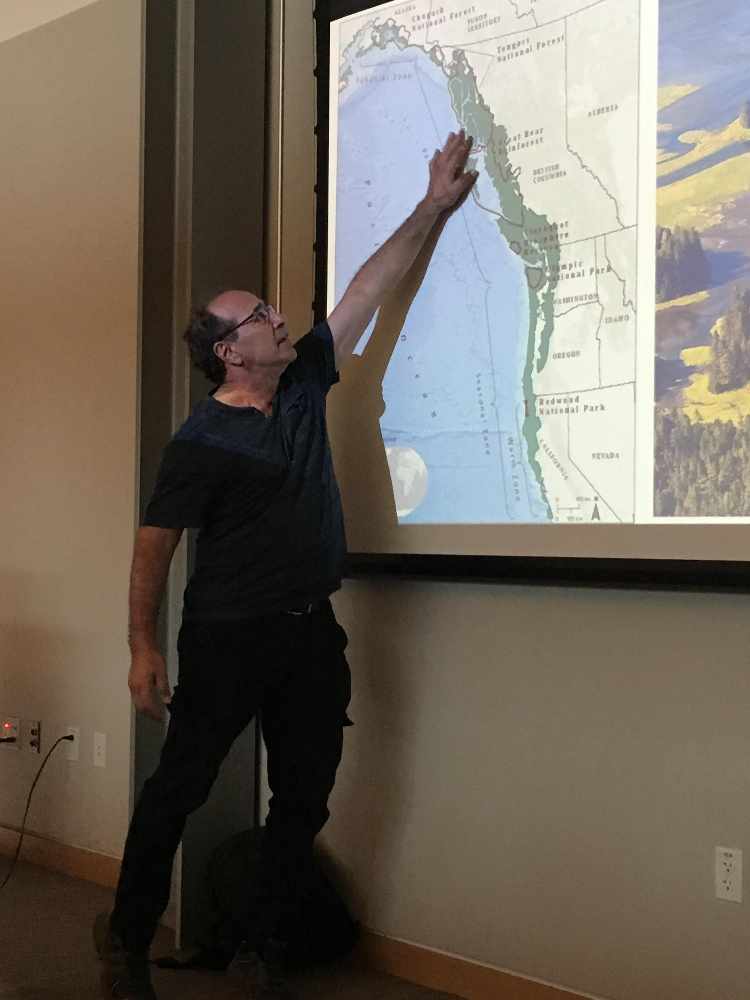 Dominick DellaSala speaks at the Mendenhall Valley library. (Photo credit to Charles Murphy)
Juneau, Alaska (KINY) - A world renowned expert on climate change spoke Tuesday at the Mendenhall Valley library.
Dominick DellaSala said we have less than 12 years to turn climate change around. He has written and edited books devoted to the subject. He has also visited most of the temperate rainforests in the world.
He maintains the Tongass has a high risk due to logging, roads, climate change, dams, mining, grazing, exotics, and international treaties.
He told the crowd that the Tongass is very important to climate change. He explained a single acre of old-growth forest has 1 billion needles that soak up carbon. Old forests store 50% more carbon than logged forests. A single 100-foot tree releases 11,000 gallons of water into the ecosystem.
"Every critter in that forest needs water. The trees are natures water towers. They are natures climate solution," he said.
There are 33 million acres of high biomass forests in the United States. They capture 14 billion tons of carbon. The Tongass has more carbon in its forest than any other national forest. "It is a global and national champion that helps to keep our climate safe," he said.
DellaSalla said roadless areas need to continue. When forests are logged over 60 percent of stored carbon is emitted into the environment.
He said Prince of Wales Island is hemorrhaging due to the logging and roads that have gone on over time.
He explained logging of old-growth for 16 years would equal carbon emissions from four million vehicles annually for 100 years. "The actual cost to the environment is huge. Each molecule has a social, economic and health cost."
The US Forest Service will soon release an environmental impact statement on the Alaska specific roadless rule. This would cost $100 million each year, about 10 times the value of the wood products these trees would create, estimated to be between $8 and $10 million.
"Alaska is changing. This is a weird summer up here. I've never seen anything like it. The creeks are bone dry, the salmon haven't come in, it's been hotter than hell and the trees haven't come in. Alaska has the highest velocity of climate change on the planet."
He predicted a nine to eleven-degree elevation in average temperatures by mid-century in this region. It would grow to 13 degrees warmer by the end of the century. He said interior Alaska will be warmer than Southeast Alaska.
By the end of the century, experts predict palm trees will grow with redwood trees.
DellaSalla said when old-growth and roadless area logging persists ecosystems begin to unravel. He said young growth logging is the solution.
The Tongass Young Growth Inventory Portal found 40,000 acres of young growth in Kake, Ketchikan, Klawock and Wrangell. Another 10,000 acres are located in Hoonah and Wrangell. Over 80,000 plots are in 357 timber stands. The average is two to three plots per acre.
The inventory areas evaluated 43 acres in Prince of Wales, Ketchikan, Petersburg, and Wrangell. 138,760 young growth acres is suitable, a low environmental risk, within 800 feet of currently open forest service roads. The sustainable harvest level could be 2,500 acres annually. The initial harvest will primarily occur in Prince of Wales over the next 20 years.
The volume is there and the acres are there if you want to move away from old-growth logging, he added.
He said critics claim there are too few acres and too little volume, the acres are too scattered for economic viability, the trees need another decade to grow, there is poor access to trees, the slopes are too steep, too many acres are in low site productivity soils, there are no markets for second growth, there is poor economics when processing second growth, and it would require changes in milling operations to transition to second-growth processing. He said there is a need for a small pilot project, perhaps in Hoonah to prove his points.
The vision is what is important, you have to have a vision in order to move forward. My vision is to resist the wall of conflict. The roadless rule is at risk. Nine million acres are protected now as carbon warehouses and climate sanctuaries. Salmon, traditional uses, recreation, wildlife, deer, bears, and wolves thrive here. Atmospheric carbon is stored in the forest and Alaska's climate velocity slows down.
We should embrace the wall of wood. The young growth offsets old-growth logging, with a small scale mom and pop old-growth specialty. He said value-added manufacturing keeps jobs local and new milling tech replaces old-growth sawmills. He added young growth acres and volume available at comparable old-growth volumes with fewer defects. It also avoids controversial areas and reduces logging emissions and climate impacts.