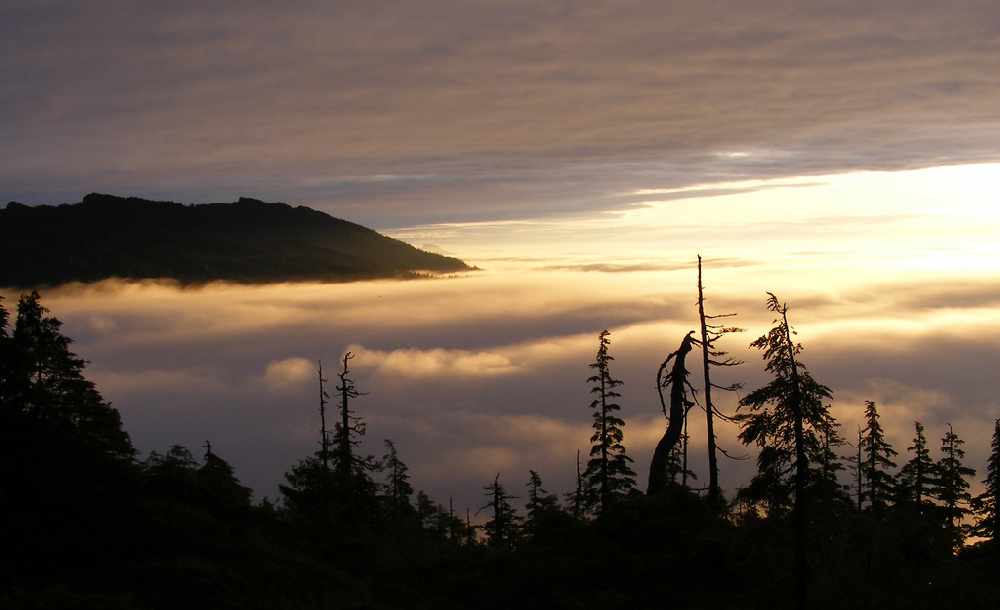 2009 photo of the sunrise over the Craig Ranger district USFS Brian Barr
Juneau, AK (KINY) The process continues for the Prince of Wales Landscape Level Analysis Project that will map the next 15 years of management for the Tongass National Forest.
We spoke with Paul Robbins Jr, a Public Affairs Officer with the Tongass, about the process and what it means for the forest as a whole.
Currently, an objection period is open following an error that could have prevented people from getting their objections properly filed.
"We restarted the objection period because we noticed in our initial notification in the federal register we had a typo in the email address for people to submit their objections. In order to be fair and make sure that everybody who wanted to use the various methods to submit their objections had the correct opportunity we had to send out a new notice with the correct email address on there and the correct contact information."
Robbins then summarized what the process is.
"The Prince of Wales Landscape Level Analysis is a large-scale analysis designed to comply with NEPA (National Environmental Policy Act) to produce a single decision that's going to authorize integrated resources management on Prince of Wales for the next 15 years. We did the NEPA process over approximately 1.8 million acres of national forest lands in the Craig and Thorne Bay ranger district, so about all of Prince of Wales and the surrounding areas."
There are all sorts of action items on the plan, all of which were accepted unanimously by the Prince of Wales Landscape Assessment Team, a group that was independently formed and representing tribes, fishing, timber, and other stakeholders.
"There are 200 miles of in-stream restoration built into the plan, up to three new recreation cabins, twelve new three-sided shelters, trail construction, maintenance projects. This POW LLA covers all of our land management practices. There are also 2500 acres per year of thinning treatments to help forest health and there is also some timber projects in there as well."
We asked Robbins if the Analysis Project would result in an increase in jobs.
"I don't have any stats on jobs, but I will say that there is going to be a flurry of activity between the next 10-15 years through projects if this Record of Decision goes through. Our folks are going to be busy with trail maintenance and restoration projects. Timber companies are going to have thinning operations to do as well as timber sales, so I can't imagine that it's not going to, if not keep some folks employed, then maybe employ some more.
Robbins also addressed some of the criticisms that the Prince of Wales Landscape Level Analysis Project has been facing.
"It's been suggested quite a bit on social media and in recent news stories that this POW LLA process is a large-scale old growth sale, which is misrepresenting what it is. There is a significant old growth harvest volume listed within the ROD, which was suggested by the POWLAT and accepted by the Forest Service in the ROD, but what that is is the bridge timber for our transition to young growth harvest. So that has been a part of our Tongass Land Management Plan Amendment to transition to young growth."
Robbins further explained the balance that is being worked with when it comes to harvesting.
"During that transition, it was recognized that we need to provide old growth with the young growth as that transition happens. So that's what that old growth volume is within the ROD and the amount of young growth offered in the first 7 years is smaller and then the young growth ramps up in the later years as the transition happens. This makes the volume more economically feasible."
He also shared with us his pride in the process and how they want to further manage lands with public feedback.
"We're really proud of this process. We think it will be a great model for our land management practices in the future with the full engagement of a diverse group of stakeholders from our communities helping guide us in the management of their public lands."
Objections can only be sent by those who already submitted comments. Those objections are to be sent to the Regional Forester either digitally or through the mail or by fax.
Email - objections-alaska-regional-office@fs.fed.us
Address - Regional Forester, Alaska Regional Office
PO Box 21628
709 W 9th Street
Juneau, AK 99802-1628
For more information call 907-586-8806 or visit their webpage on the POW LLA.