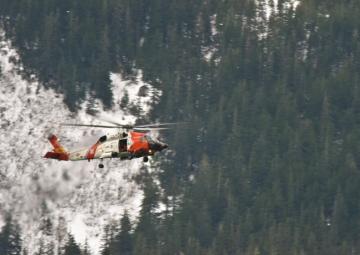 Kodiak, Alaska (KINY) - Three people were rescued Saturday by the Coast Guard in Kodiak, but what makes this rescue out of the ordinary is that the rescued three were on an inflatable pink flamingo.
According to Alaska Public Media Nation Sega, his sister, her roommate and dogs were out in Monashka Bay, about 5 miles from the city of Kodiak.
Sega and his friends brought the inflatable flamingo to the bay.
They weren't worried at first, but by Saturday afternoon, the winds picked up and pulled the flamingo riders out across the bay.
As they waited for rescue, the flamingo drifted toward some offshore rocks until they finally ran aground.
About an hour later, an MH-60 Jayhawk helicopter from Coast Guard Air Station Kodiak came to their rescue, hoisting them up.
On social media the coast guard said that the Alaska State Troopers and the Coast Guard worked together to determine that due to the treacherous circumstances, a helicopter hoist was the best option to bring the folks and their animals back to shore, safe and sound.