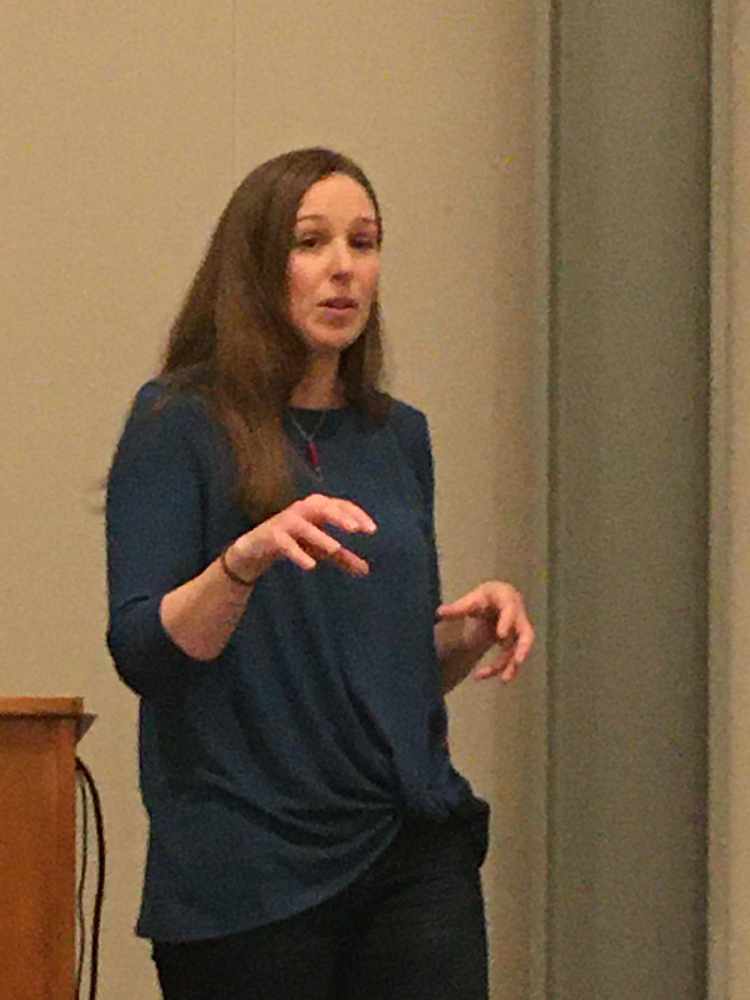 UAS Associate Professor Anne Beaudreau. (Photo credit to Charles Murphy.)
Juneau, Alaska (KINY) - Researchers and students at the University of Alaska are conducting a multi-year study on how melting glaciers like Mendenhall are changing Juneau's Coastal ecosystems.
Anne Beaudreau, Associate Professor at the University of Alaska Fairbanks Fisheries Department gave a lecture at the Mendenhall Valley Library on Tuesday.
She explained that there has been a lot of changes in our landscape and that more freshwater will be emptying out into the ocean in the next few years.
About 849 cubic kilometers of freshwater reaches the Gulf of Alaska each year, about half of it from glaciers.
A study found glaciers lose 75 billion tons of ice per year which is equivalent to 30 million Olympic swimming pools.
Here in Juneau the Mendenhall Glacier, Aak'w T'aak Sit' has retreated about two and a half miles since 1894.
"It is remarkable how fast this has happened. Not only glacier melt but precipitation is also changing," she told the group.
Precipitation is expected to increase from three to 18 percent in Juneau by 2080. The total amount of snow expected will decrease between 22 and 58 percent annually by then.
Beaudreau said her team is interested in the fate of freshwater once it hits the estuaries.
Beaudreau said it can affect habitat and food webs in the near future.
There is a lot of sediment, nutrients, and organic matter in freshwater. Glacier has ancient carbon, phosphorus, and Iron. In a way, glaciers could be feeding the oceans.
They affect habitat, temperature, salinity, turbidity, dissolved oxygen, and circulation of water. Freshwater is a lot colder.
Estuaries are nursey and feeding grounds for many species like halibut, whales, various fish and birds.
"We don't know a lot about our estuaries. How are changes in rivers affecting estuaries, and how do estuaries change throughout the year, what types of food and habitats do estuary fish rely on?"
How will estuaries change in the future? They are changing now and they will continue to change. It was a pretty rough year for salmon fisheries and people are pretty worried about what the future looks like for salmon, she added.
The group will expand research this year thanks to a grant. They will look at river discharges and chemistry, effects on fisheries, ocean chemistry and physics, and estuary biology and ecology.
All three Alaska Universities working on this project.
Beaudreau said the annual glacier outburst flood in July in Suicide Basin, results in a drop in salinity in the water and makes the temperatures colder.
As part of the research, the group would put up a seine net for five to seven minutes at low tide at various locations out the road. They counted what they caught. Starry flounder, Dungeness crab, sculpin, coho salmon juveniles, all five types of Pacific salmon, Dolly Varden, and staghorn sculpins were found in abundance.
Salmon was more common in June, sculpin in July and starry flounder in August.
She said there are several different opinions on the future of salmon. Some argue things will be better and melted glaciers will bring new habitat for salmon. This summer though a lot of streams dried up and warming temperatures put a lot of stress on salmon. Starry flounder might do well in a changing environment. Already live under natural stress and are pretty adaptable.
Beaudreau said she hopes Juneau residents appreciate what they have here, "Take time to explore and observe our estuaries. We are so lucky to have these places. With more eyes on the water, we can track the waters, and track the changes and how the environment is changing."
Those in attendance mentioned the changes they have seen like the Mendenhall glacier retreating, small glaciers in the Chilkat's disappearing, the drying up of Jordan Creek, and an improvement in water quality in Angoon this summer.