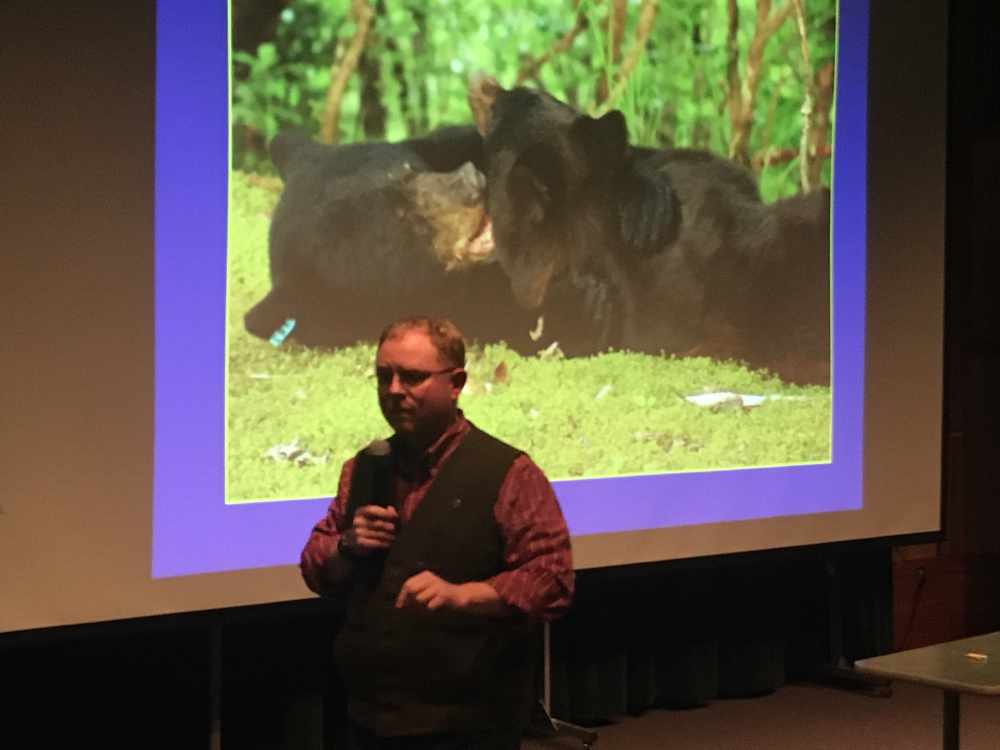 Ryan Scott.
Juneau, Alaska (KINY) - How do bears learn to survive on their own?
Ryan Scott of the Alaska Department of Fish and Game was the monthly lecturer for the Southeast Alaska Wildlife Alliance Wildlife Wednesday event at UAS. His topic was juvenile bears.
Scott said they don't have an actual count of bears in Juneau. He went into the research he's done and his observation of bears. He said bears are unpredictable at best. He emphasized nothing is guaranteed for a young bear.
Brown and black bears breed in May and July. Cubs are born in the winter in the den. A black bear at birth can weigh less than one pound. A momma bear can have up to four cubs per litter and two is the most common. Bears breed every other year.
How in the world does a bear learn to be a bear? How do they get to maturity and how do they measure success?
The cubs mostly learn from their mother. They often stay as long as two to three years with a mother, Scott explained.
The black bear can become sexually mature between the age of three and six. Around Juneau, it is typically five years.
Brown bears will sexually mature at around five years. Most mothers have their first cubs at age seven in Juneau.
"It is super easy to think of bear activity in human terms. Bears are learning lessons in much different ways than we know and understand."
The ADFG report 87% of female black bear yearlings, 32%-59% of male black bear yearlings, 55% of brown bear cubs, and 63% of brown bear yearlings survive.
"Black bear yearlings are busy bodies and they wander, females stay closer to mom with a much smaller home range."
Brown bear yearlings are larger than black bear yearlings and that is the reason for the higher survival rate.
Once they reach adulthood, the survival rate for bears is 90%.
Many bears learn about food supply at landfills. That is a bad habit to get into and can lead to problems.
He recalled a group of bears downtown in the summer of 2011 that attracted hundreds of tourists. They were a big hit with visitors. The interaction was monitored and ended successfully. They relied a lot on urban garbage.
Scott also talked about the relocation of a mother and two cubs from the Mendenhall Valley. They released them on the road system. There was no history of aggression. They placed a monitor on the mom and the monitor lasted for 75 days. She went back from out the road to Auke Bay three times and ultimately settled on Thunder Mountain.
One of the cubs tagged became known as bear 154. As a juvenile, it broke into chicken coops and caused a nuisance. It showed up at the Mendenhall Glacier with a litter of cubs. She has had multiple litters at the glacier.
A recent count of bears found 11 females and no males around the glacier. The cubs will remember that there is food there and it is safe there.
Scott said there is nothing guaranteed for a bear. Downtown bears and those in remote areas both need food sources and how they get food can put them into danger.
Scott said be respectful of any wild animal. "I don't think they (juvenile bears) will shred us, they can get scared and respond in a negative way."
Young bears don't know their limits and will push their boundaries, that could be a second door balcony, trying to take a deer you hunt in the field. As they grow and mature they learn lessons. Some don't get to learn all the lessons. One of the key skills they learn is how to fish.
Adult bears can be the young bears worse enemy. Human contact, hunting and vehicle accidents, can also lead to death.
Scott said there are polar opposite opinions about bears. Some believe we shouldn't tolerate any bears in downtown Juneau. Others believe you should never call the Department of Fish and Game about a bear.
In 2017 there were 13 bear cubs around the glacier. In 2018 there were over 800 phone complaints about bears. Juvenile bears were making mistakes in their interactions with humans.
Scott compared the juvenile bears to teenagers trying to become adults and self-sufficient.
"Your like a ping pong ball at times, you're trying to figure out where you're going to go and what you are going to do."
I think bears form a strong sibling bond, and they don't want to leave mom because that is where they are most comfortable.