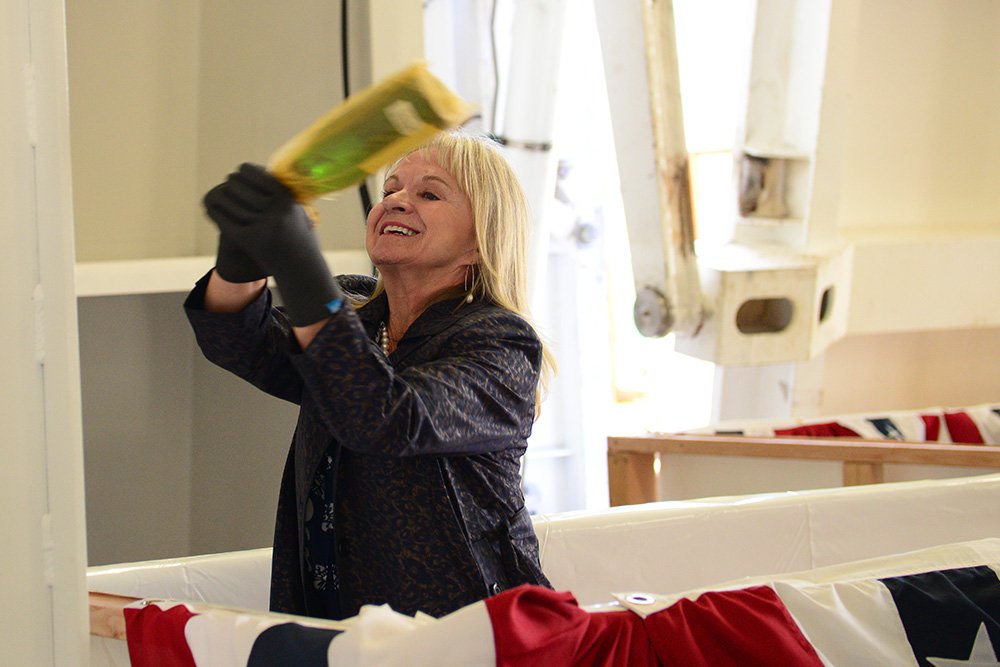 First Lady Donna Walker christens the newest edition to the Marine Highway fleet
Ketchikan, Alaska (KINY) A three-year effort to construct the latest addition to the Alaska Marine Highway fleet was completed Saturday.
First Lady Donna Walker broke a bottle of champagne over the stern of the Tazlina at a special ceremony Saturday. Other guests included Governor Bill Walker, US Senator Lisa Murkowski, State Sen. Bert Stedman, Vice President of Vigor Adam Beck, Alaska Department of Transportation Commissioner Mark Luiken, and several community leaders.
"I am so proud to christen the M/V Tazlina and welcome her into our fleet," said First Lady Donna Walker. "Creating more opportunities to connect Alaskans at this critical juncture is good for our economy, for our visitors, and most importantly, for the Alaskans who rely on the Marine Highway as part of their daily lives. We're so looking forward to seeing this Made-in-Alaska beauty out on the water."
The Tazlina is 280 feet long, seats 300 people, and can carry 53 vehicles. She's the first of two Alaska Class ferries designed to improve the reliability of Alaska's ferry system, and the first of the fleet to carry the Made in Alaska title. Construction took place at the Vigor Shipyard in Ketchikan, supporting more than 100 year-round jobs.
The Tazlina will begin serving Northern Lynn Canal in May 2019, bringing more reliable service to the region that connects hundreds of thousands of people from Alaska's road system to the marine highway each year. The Tazlina is longer, wider, deeper, and heavier than the ship than the M/V LeConte, which primarily serves the area, and will be able to navigate through stronger winds and choppier seas.
"Thank you to all those who have put serious blood, sweat, and hard work into making this day a reality," Governor Walker said. "Getting the Tazlina into service is an important part of improving access for all those who ride the Marine Highway, whether it's to see family, get to the hospital, or go to work. We are so proud to say this ship was made in Alaska, and we're looking forward to watching her serve Alaska for decades to come. "
All of Alaska's ferries are named for glaciers, and the Tazlina is no exception. Seventh grader Melea Voran, from Port Alsworth Tanalian School, chose the ferry's name through an essay contest. It means "swift river" in Ahtna Athabascan.