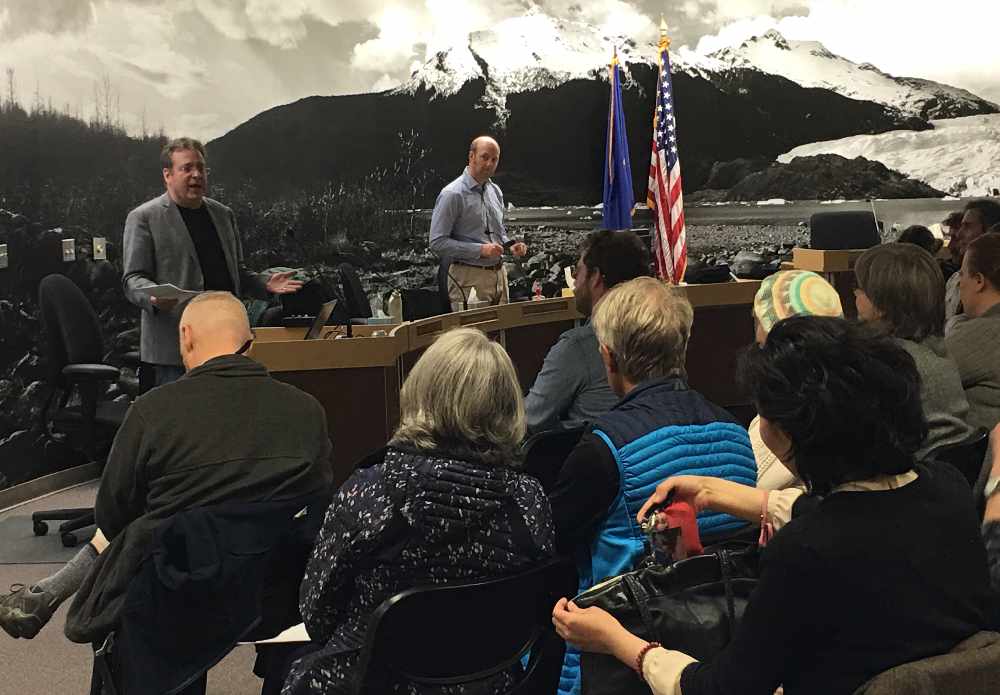 Juneau, AK (KINY) - The Juneau Commission on Sustainability brought together some experts to present some advantages and challenges of heat pumps to the public.
Heat pumps actually transfer heat, rather than creating it, making them more energy efficient than either an oil or electric heater. Heat pumps are about eight times more effective than oil heaters. They can also be used for cooling in the hotter months. The source of that heat is either the air or the ground, depending on the type of heat pump being used.
We talked to Stuart Cohen, who was one of the presenters and a chairperson of Interfaith Power and Light, asking first if heat pumps can handle the colder months.
"Air source heat pumps are most efficient at temperatures of about 30°F to 60°F, but the ones that are most suitable for Juneau will still heat your house down to five below zero. Even at 25°F, which is the average temperatures of Juneau in the winter, they're still going to be very efficient and save you a lot of money. When it gets down below -5°F, then you might want to fire up a space heater or if you have some legacy Toyo stove or something like that."
He continued by explaining some of the differences between the two types of heat pump.
"An air source heat pump is going to be better for most residences, because it's much less expensive to put in. It's about $4,000 for a 1500 square foot house as opposed to $20,000 for a ground source heat pump."
We also asked Cohen if there are options out there designed for those with a lower income.
"Right now there's a bill that's already passed the House and it's going to the Senate called HB 374 that will enable people to finance their heat pump and the finance charges would be put on their utility electric bill. Of course this would depend on if AEL&P chose to do that, because they're not required to, but that would be a mechanism that would enable people to actually save more money on their heat than the payments that they're making to buy the heater."
Cohen couldn't stress enough how using heat pumps could lower carbon footprints.
"Heat pumps are critical; a big part of Juneau's carbon footprint comes from space heating. Space heating and transportation are the two biggest elements and so not only will installing a heat pump save people a lot of money, it cuts people's bills 40 to 70%, but it will also cut their carbon footprint immensely."
Of course, before putting in a heat pump, homeowners should look into things like sealing air leaks and adding in insulation where necessary. The type of heat pump chosen will be determined on the budget and needs of the homeowner. Juneau does have local heat pump installers, so a quick phone call can help determine which heat pump is the most appropriate.
Additional information can be found at this website.
Find more on the Juneau Commission on Sustainability on their website.
This video on heat pumps was also recommended.