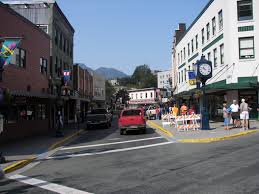 Juneau, Alaska (KINY) - Two suspected burglars were nabbed early Monday afternoon after the owner of a business in the 200 block of North Franklin Street found them inside her business.
Police say they appeared to have been living there over the weekend.
Department official Erann Kalwara said they were contacted shortly after noon.
One of the suspects had left the store before police arrived but officers caught up with 29-year-old Aaron T. Thate at a nearby business.
The other suspect, 30-year-old Chelsea J. Willis was standing inside the business with no shoes on, according to Kalwara. Her shoes, clothing and some other personal belongings were on the floor.
The rooms were in disarray with cabinet doors open, a painting removed from the wall, items strewn around on surfaces and the floor. The business owner indicated that the area was in such chaos that it would take her some time to determine everything that was missing or damaged.
Thate and Willis were both charged with Burglary in the 2nd degree, Criminal Mischief in the 3rd degree, and Theft in the 3rd degree.
They were jailed at the Lemon Creek Correctional Center.