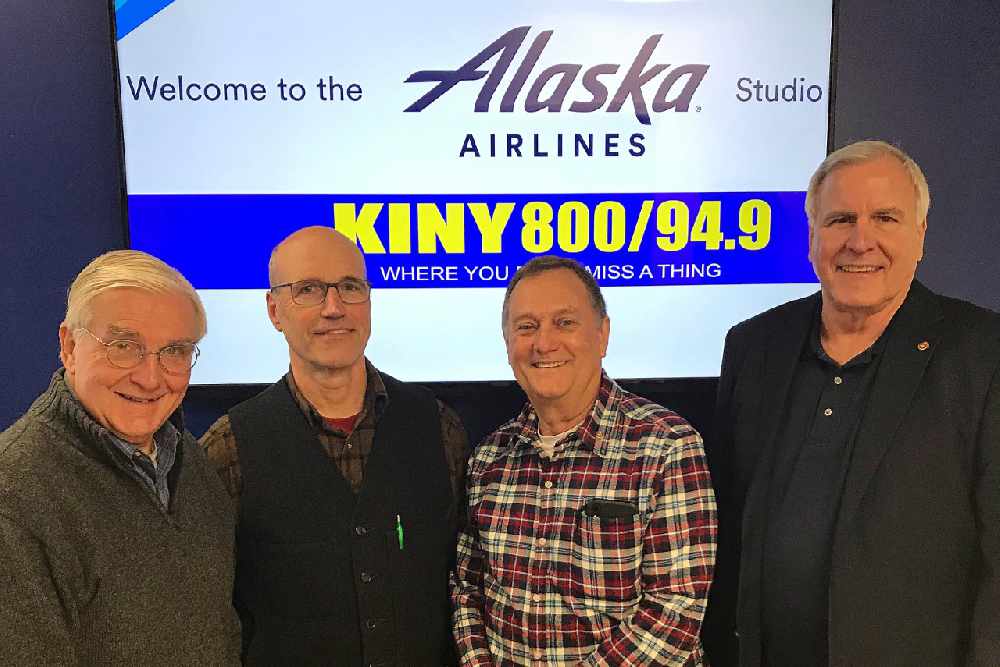 (Left to Right) Jim Clark, legal counsel to 1st Things 1st Alaska Foundation, Board member Frank Bergstrom, Executive Director Denny DeWitt and Craig Dahl of Juneau Chamber.
Juneau, Alaska (KINY) - Supporters of the proposed Alaska Specific Roadless Rule made their pitch on Action Line Tuesday.
Denny DeWitt is the executive director of the First Things First Alaska Foundation. "We've already had six point six million acres of the Tongass set aside for wilderness and other restricted use. So it's not like that we're without protection for our Tongass. We are."
Foundation Legal Counsel Jim Clark attributes opposition to a full exemption to the Roadless Rule to fear. "Fear is a big factor," he said. "There is a lot of concern that with the lifting of the Roadless Rule there is no protection any longer from harvesting anywhere in the Tongass which just isn't the case."
Clark explained that there's an overlap of the Roadless Rule and the 2016 Tongass Plan which is a regional plan that covers all resources that's required by the National Forest Management Act and that plan will remain in effect.
Board member Frank Bergstrom said, "There is no destruction of the environment that we'd be looking at here if the Roadless Rule went away because we are just replete with regulations. There's tremendous regulation in the forest."
He specifically mentioned the National Environmental Policy Act, environmental impact statements and plans of operation required to any development such as a mine. "So there would be tremendous opportunity for people to participate and analyze any kind of development, but the thing is we just can't get there with the Roadless Rule.
The Forest Service is now accepting public comment on six different proposals including the full exemption supported by the foundation.
Public comment is due December 17.
No matter what plan the Forest Service decides on, Clark is convinced that the Southeast Alaska Conservation Council will take any change to the Roadless Rule to court.
The Forest Service hopes to make a final decision by next June, but Clark feels it will take longer. He adds that the litigation could take years.