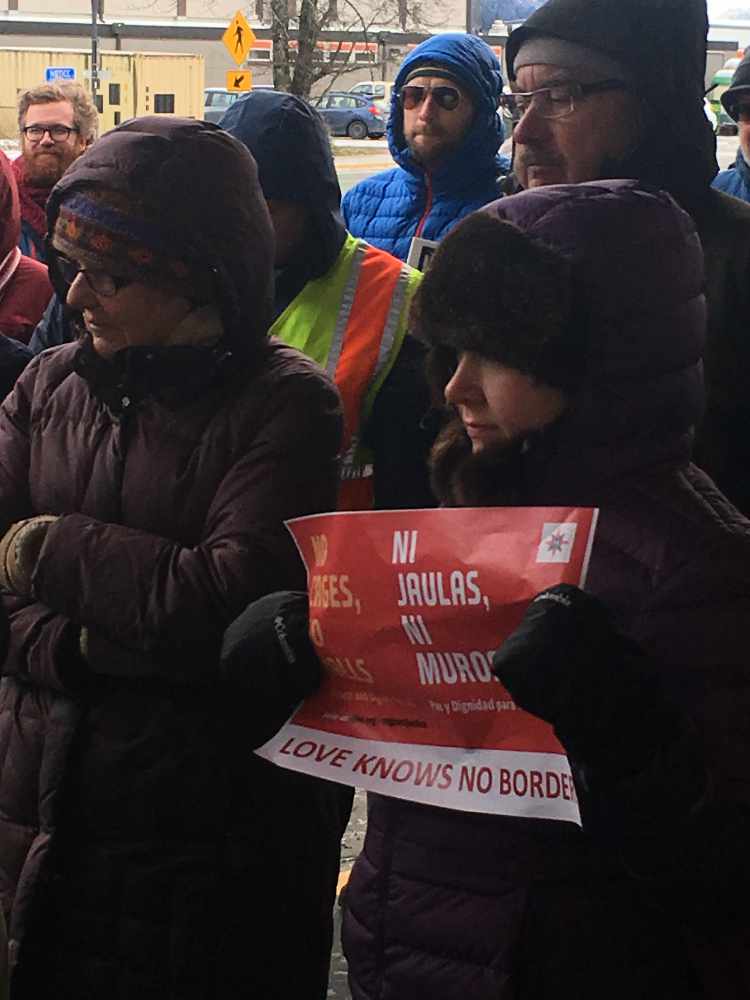 A crowd gathered outside the State Museum in freezing temperatures
Juneau, Alaska (KINY) The Love knows no borders rally brought out over 150 people Saturday in the cold to rally support for migrants.
Donations were taken for the group Border Angels to help those being detained at the US Mexican Border.
One of the Organizers Trish Turner Custard told the crowd they were there to show support for migrants across the world, "We stand together in solidarity in support of refugees. We stand for their legal right to asylum. We stand together to make our voices heard and say what is happening on our southern border is wrong."
Goals of the rally were to raise money to help those at the border but also to lobby the Alaska Congressional delegation for an agreement on the issue of illegal immigration.
Alaska Poet Laurette Ernestine Hayes said the current policy is not in line with the principles that the founding fathers stood on. "We seek and defend liberty and justice for all, We seek freedom and respite for all."
Several speakers who migrated to the United States spoke at the rally outside the State Museum.
December 10th was human rights day and December 18 is International Migrant Day.
Migrant Manni Guillen, an adult, has lived in Juneau since he was 5 years old. He said the rally helped show there is love in the world.
He said he remembers what Juneau did for his family when his father was deported, "I appreciate Juneau a lot. I appreciate you people being here. There's a saying, it is very cold in the world, you guys being here make it warmer."
Sound from Manni Guillen