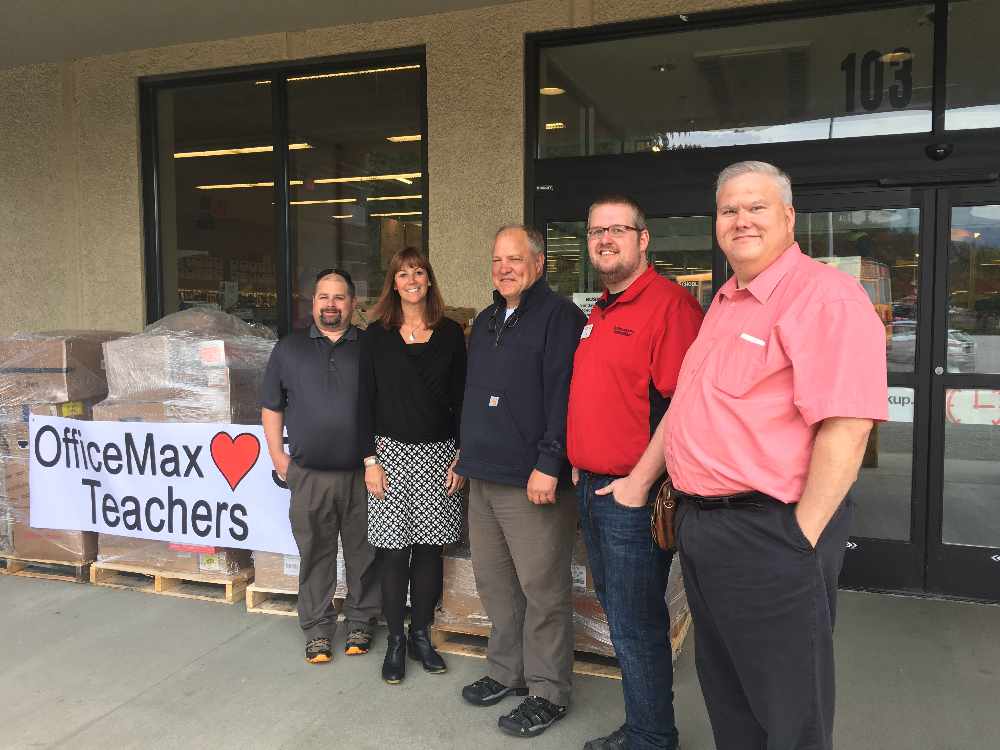 Juneau, AK (KINY) - Juneau residents and businesses came together to ensure that needy students in the area will have school supplies through the Stuff the Bus event.
The event was put on by the Juneau Radio Center, Office Max, and with support from Altman, Rogers & Company and Mendenhall Auto Center. Customers were able to donate through a variety of ways, all with the end goal of gathering as many supplies as possible.
Office Max Store Manager, Adam Dordea, told us the harsh reality that many teachers are facing and how he saw that he could make a difference in the community.
"I was reading stats earlier this year after talking to teachers about how much they are giving back to the classroom, so I read a stat and I think it was $497 that the average teacher spends on their own classroom. I don't know about you, but I don't spend $500 to buy supplies for my work."
"We just had a report that crime is going up and how do you fix those type of things? With education. In my role, I can help supply what's needed for education."
Office Max has done donations to the school district before, but Dordea wasn't satisfied and wanted to help more. He worked with Office Max at the corporate level to create the Stuff the Bus event. If things go well, he hopes to see more of these types of charity events throughout Alaska.
Dordea also wanted to extend a hand to anyone wanting to make a donation to the schools at any point in the year.
"So currently we're accepting donations through the 22nd, but I mean we can always be a place for someone to drop of something that's a donation to the school district."
He added that he can help connect people to the right place for their donations. Even items that are removed from Office Max shelves can often end up in the hands of students.
Say we have a pen that is no longer going to be carried here, we are not going to throw it away. In the Lower 48 Office Max stores will send them to a distribution center, we have a charitable foundation that we then go from there."
"In Juneau, I'm not going to pay to ship it down south to go to someone that isn't in our community, so I have gotten approval and we have those things that we are no longer carrying or that we have too many of, we can make those donations on a regular basis."
Several members of the Juneau School Board were at the event to show their support. Emil Mackey, who is also running for the Assembly District 2 seat, was blown away by the support Juneau gives to those who need it.
"We are at a city of great wealth, not just in resources, but also in generosity. This is just one example of the generosity that goes to the kids that normally would be a little more challenged. It's nice to see that other organizations are coming through and doing this. It's great!"
Mackey also drove home just how important education is to a society.
"Just think about it this way. We are competing as an industrial society against every other industrial society in the world. Quite frankly education is the underpinning of that whole economic advantage or disadvantage.
"We really need to recognize how important public education is, not just for individual children, but for the economy as a whole."
The Stuff the Bus event was deemed successful, just in time for the start of the school year.