Stop Heroin, Start Talking is continuing its effort to destigmatize the problems surrounding heroin use in Juneau.
Posted Wednesday, May 11th, 2016 11:00am by Colt Dylan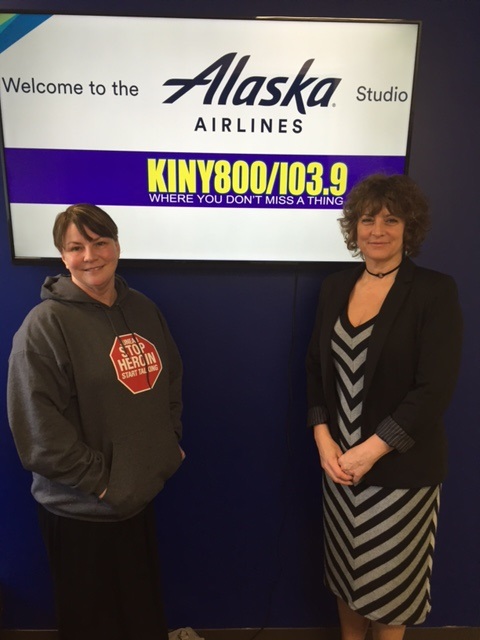 Stop Heroin, Start Talking is continuing its effort to destigmatize the problems surrounding heroin use in Juneau.
The organization is working on raising money for an educational school visit later this year, "Juneau Rotary Club is going to do a fund raiser with us and that's going to give us some funds. We're going to go into the schools in September with all of our swag and with the kids that have already formed groups in the school and we're going to work with them so that we can put this barrier back in and say you don't have to do these drugs to have a great life."
That's Stop Heroin, Start Talking founder and First Lady's Volunteer Award recipient Michelle Morgan speaking on Capital Chat yesterday.
She formed the organization following a rash of young deaths, "In 2014 we started seeing some kids die of heroin overdoses and what would happen is that the families didn't have anyone to talk to. They had a stigma, they kind of got a double whammy, and when Brenner Hafner died in September of 2015 it hit me at home, I knew this kid. I just thought we needed to talk about this so we made these stickers and my son, who is 25 and had grown up with a lot of these kids, said "Those are too harsh, Mom. We need some stickers people can relate to.", so we made "Bacon is 100% better for you than heroin.", and it really took off."
Morgan was joined by Gastineau Human Services Counselor Michelle Federico, who talked about what parents and loved ones of those facing addiction can do to help, "There are a lot of resources in the community. Approaching agencies like NCADD, National Council on Alcoholism and Drug Dependence, and there's Juneau Youth Services, but basically getting connected to people that are in recovery through Al-Anon. I've seen families get transformed when one of the parents starts to go to Al-Anon. It's been a beautiful thing because they learn how to deal with their young ones being addicted or their loved ones. The hardest thing is for families to sit around and watch and expedience the level of powerlessness while their loved one kills themselves with drugs and alcohol."
If you want to get in contact to discuss a problem with addiction someone close to you is facing, "We have a Facebook page. I have a work cell phone number and you can reach me by text or direct call at 723-3021." said Morgan, "I have people contact me all the time, my cell phone number is 209-1452 and you can also go on the Facebook page and we respond typically in four to five minutes.", Federico continued.
Look for Stop Heroin, Start Talking on Facebook.