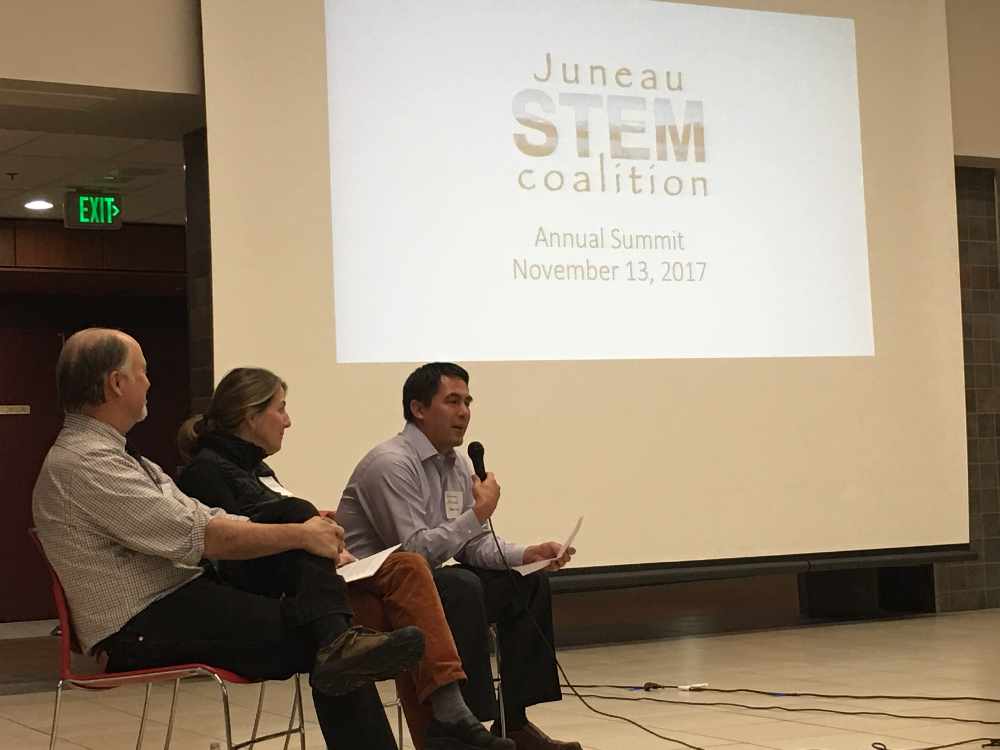 Juneau, AK (KINY) - Juneau Douglas High School was the setting for the STEM Coalition Annual Summit this year.
The event brought together many minds of the community to talk about STEM education in local schools and how as a community there can be improvements. The evening began with a few speeches on STEM from guests Anthony Mallott, Doug DeMaster, and Jennifer Thompson.
After the speeches, the audience broke into discussion groups on various topics. Each table was a gathering of some of Juneau's brightest minds, including a few high school students who attended.
We asked Ryan Stanley, the IT Director at SERRC, about what STEM opportunities there are in Juneau
"Tons. Everywhere. It's the world that we live in; it's just very technological. I think it's a matter of sort of connecting the critical thinking approach with some of our more traditional schooling, so getting students to really be looking at that math problem, not so much in the in the sense of is this a subtraction problem or division problem, but how can I solve it and what are the relationships of these numbers? To have that kind of critical mindset I think is pretty important."
We also talked to Ted Wilson, the Director of Teaching and Learning Support for the Juneau School District, who talked a bit more on integrated curriculum.
"I think part of what we heard tonight is each of our curricular areas has something it needs to contribute. How do you as a teacher bring all of those things together? When we talk about integrated curriculum, but also the process is not just the content, but how do we get to the content? How do we think about the content? How do we develop problem solvers and students who can think critically and have perseverance and grit and the things that the schools are working on. The art of teaching is how do we bring those things together to help students meet whatever our future economy is going to look like?"
Two of the major topics brought was a fear of having poor math skills, as well as how to bring back Science Fair-like activities to students of all grade levels.
Those involved in the STEM coalition will now take what they learned in discussions and compile everything together, searching for solutions to some of the challenges faced in Juneau's education systems.