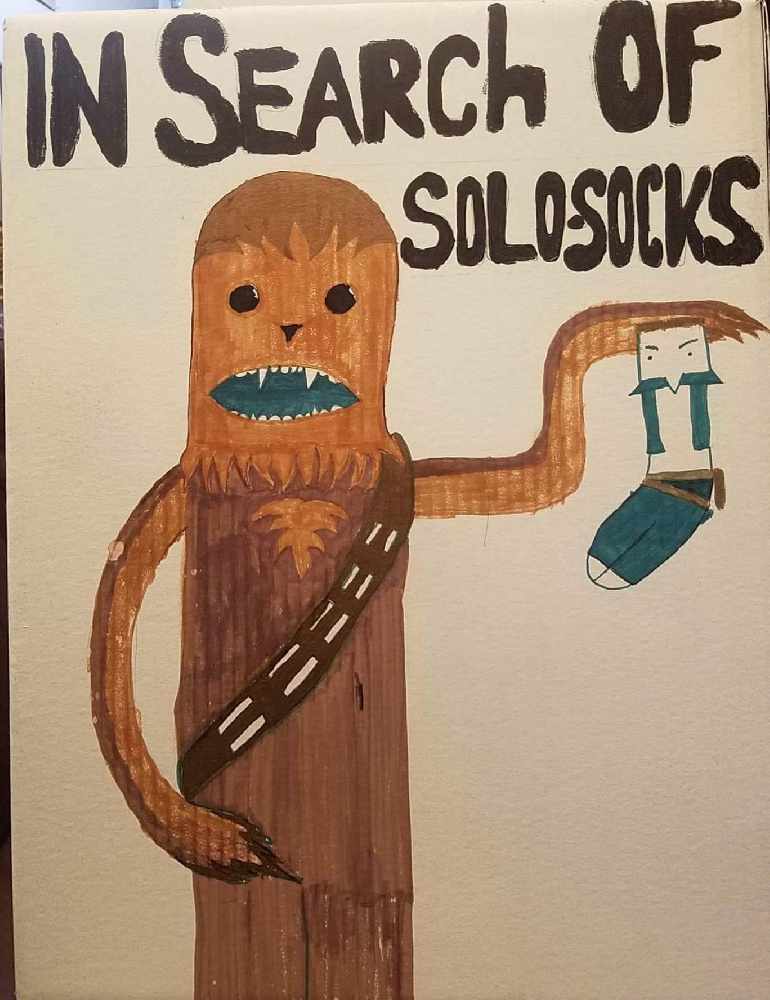 A cartoon drawn on one of the main donation boxes for the Solo Sock Drive.
Juneau, AK (KINY) - A Juneau resident has organized another clothing drive after seeing a successful glove drive last winter.
Seeing a need in the community for clothing during cold months, Rebecca Blacksun set out to organize a Singles Glove Drive last winter. Those efforts have been rekindled in a Solo Sock Drive that aims to provide socks to those who need them.
Blacksun runs a business where she sells decorative pins, but has been an active volunteer in Juneau. She worried about people in the community suffering during colder months and wanted to do something about it.
After the success of the glove drive, a sock drive made a lot of sense.
"The Sock Drive spun out from our very successful glove drive that we did over the winter. A lot of people, myself included, thought that socks are something that a lot of people hold onto even after they've lost their mate to their sock. Instead of throwing those extra socks away, donate them, and then we can pair them up. Then we give them out to almost every outreach that we possibly can in Juneau."
Those donated socks will be sorted and be sent to Housing First, the Glory Hole homeless shelter, the AWARE women's shelter, JAMHI, the Haven House, and the Front Street Clinic.
Blacksun has also gotten assistance from Second Wind Sports in her quest to ensure that every homeless person in Juneau has clothing.
"Second Wind has been donating two bags of clothes every week, or every other week, to donate to homeless people and so I'm downtown on a regular basis finding what people need and getting people the resources that help them."
Last winter for the Singles Glove Drive, she was able to ensure that donations went out to anyone who needed them.
"We were able to give hats, gloves, jackets, socks, and some pants to every single homeless person downtown and if they ever lost anything, we were able to get them new clothing. We were also able to give the same to every woman at the AWARE shelter, every child at the AWARE shelter, and every person at the Haven House. We were also able to provide JAMHI and Front Street Clinic with gloves and some socks to last the entire winter."
After a while, people stopped asking for things because they had already been taken care of through the glove drive.
"Over the winter, I didn't really see anyone in need once we distributed the clothing. We had a policy that no request would be denied, any reasonable request, and it just got the point really where people weren't even asking; they didn't need anything because they were already provided for."
Those who would like to donate can either contact Blacksun directly or simply drop off socks and other clothing at the donation boxes at Fred Meyer, Foodland IGA, and Nugget Alaskan Outfitters. More boxes could show up in other locations, but those will be the main three.
They are also in need of bras for the AWARE shelter, which can also be donated directly or through the boxes.
She tells us that the Solo Sock Drive will last until the end of the season, with boxes pulled in at some point in late September or October.
Blacksun tells us that the glove drive and sock drive will likely continue through the Juneau Lions Club. She also wanted to thank Reliable Transfer Corporation for donating the boxes.
The first ten people who donate $100 or more worth of new socks will be given a free two-person whale watching tour from Dolphin Jet Boat Tour, who wanted to find a way to help the charity effort.
Contact Rebecca Blacksun about donating through her email address (sacred.shell@gmail.com) or through Facebook.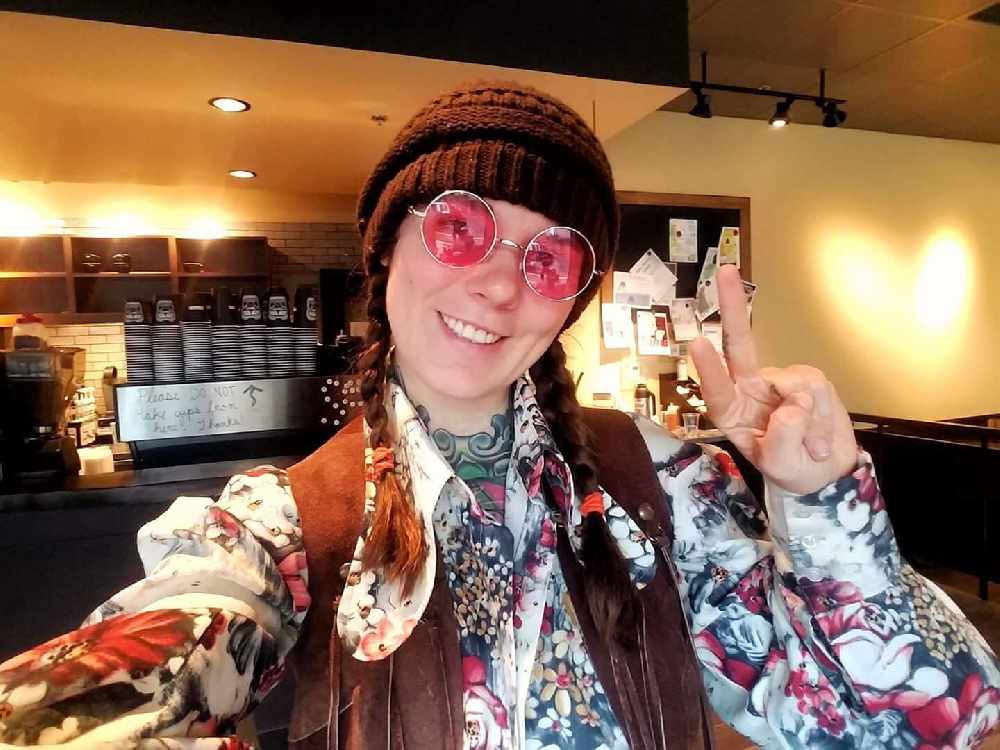 Blacksun can be found helping out during Lions Club events. Send all of those solo socks to her and she'll ensure they get to the right people.