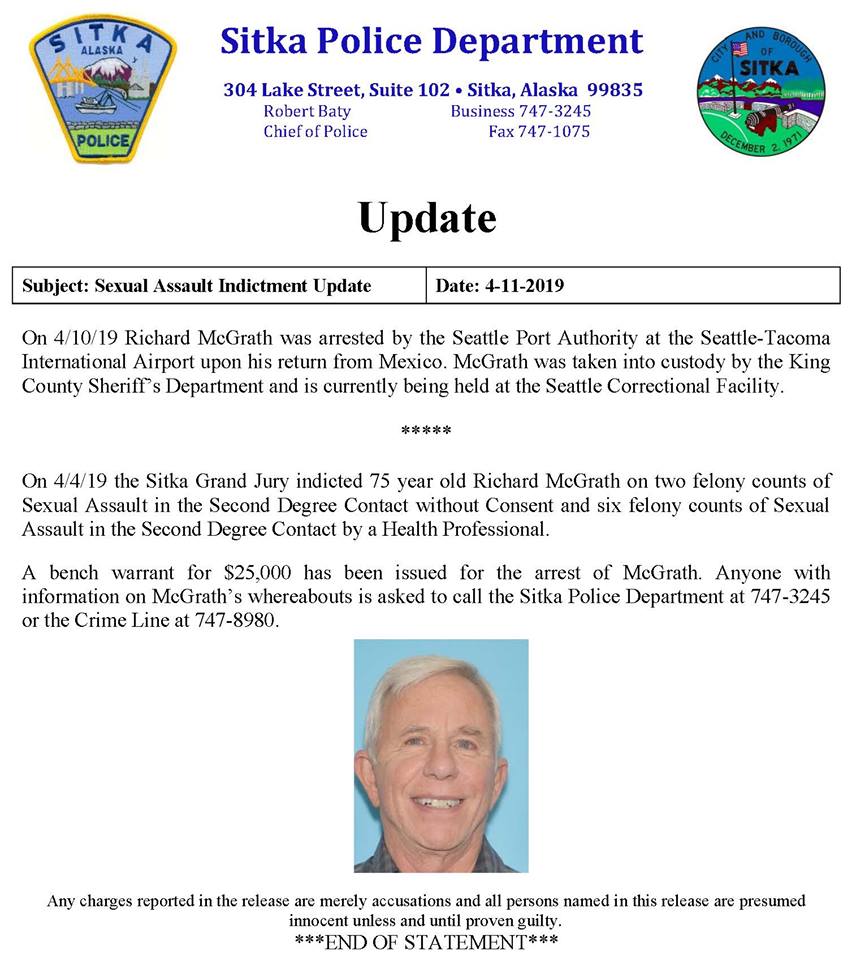 Seattle (KINY) - Dr. Richard McGrath of Sitka was arrested by the Seattle Port Authority at the Seattle-Tacoma International Airport upon his return from Mexico on Thursday.
McGrath was taken into custody by the King County Sheriff's Department and is currently being held at the Seattle Correctional Facility.
According to KTUU TV in Anchorage McGrath is charged with multiple counts of sexually assaulting a patient.
McGrath, a 75-year-old family doctor based in Sitka, allegedly sexually assaulted a patient multiple times last year, according to authorities.
Serena Wild, the spokesperson for Sitka Police Department, said the case of sexual assault against McGrath was first reported to police in December 2018.
Wild said that McGrath was indicted last week following an investigation and further collection of evidence. Wild said right now there are not thought to be additional victims.
McGrath was an Emergency Room doctor at Sitka Community Hospital for about four years, said hospital CEO Rob Allen. Allen says in the four years he'd been in Sitka, McGrath worked as an emergency room doctor and had spent one year treating patients in the hospital's clinic.
McGrath was put on administrative leave in December when the hospital learned of the allegations, Allen said.
According to court records, McGrath faces two charges of sexual assault contact without consent, and three charges of sexual assault contact by a health professional.