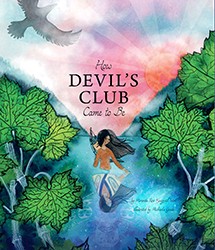 Juneau, AK (KINY) - A new book called "How Devil's Club Came to Be" is being published under the Baby Raven Reads program.
The story was written by Tlingit author Miranda Worl and illustrated by Tlingit artist Michaela Goade. Worl wrote the story when she was a freshman in high school and submitted it to SHI's young writer program. This will be her first children's book. Goade has illustrated two other Baby Raven titles for SHI. Both Worl and Goade will be available to sign books at the Gallery Walk, while Education Program Manager Katrina Hotch will be reading from SHI's Baby Raven Books.
This will be the nineteenth children's book published through SHI's Baby Raven Reads. Baby Raven Reads was one of 15 programs in the world chosen for a 2017 Library of Congress Literacy Awards Program Best Practice Honoree award.
"How Devil's Club Came to Be" will be released on December 1st from 4:30-6 pm at the Walter Soboleff Building in Juneau during the Gallery Walk.
More information about the various education programs at the Sealaska Heritage Institute, including Baby Raven Reads, can be found on their website.