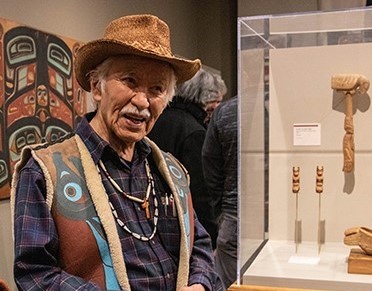 Nathan Jackson.
Juneau, Alaska (KINY) - Sealaska Heritage Institute has announced the opening in April of a retrospective exhibit on Tlingit artist Nathan Jackson.
Jackson learned to carve in the 1960s at a time when Native people were in danger of losing knowledge of ancient art practices.
Since 1967, he has been creating masks, panels, house posts, totem poles, and jewelry using traditional Tlingit Northwest Coast formline design in his own unique style. He was designated a national living treasure by President Bill Clinton, and today he is considered one of the most renowned Tlingit artists of his generation.
Yéil Yádi—Raven Child: A Nathan Jackson Retrospective will be on show from April 5 through Oct. 15 at Sealaska Heritage in Juneau and is running alongside the institute's exhibit Our Grandparents' Names on the Land, which opened in 2018.