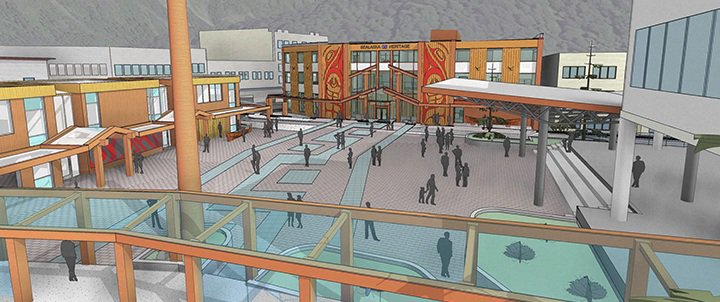 An artist's rendering of the facility. (Image courtesy SHI)
Juneau, Alaska (KINY) - Sealaska Heritage has officially launched its fundraising campaign to build a Native arts campus at Heritage Square, kicking off what will become a cultural and educational space in downtown Juneau.
The Sealaska Heritage Arts Campus is phase two of SHI's vision to make Juneau the Northwest Coast art capital of the world and to designate Northwest Coast art a national treasure.
SHI this week received word that it received a federal grant of more than $5.6 million for the $12 million project, which, along with donations and grants from other sources, puts the project at 70 percent toward its funding goal.
"We are thrilled to officially kick off the fundraising campaign for our arts campus, which is a major component of our vision to make Juneau the Northwest Coast art capital of the world," said SHI President Rosita Worl. "Our campus will be a major step toward perpetuating Alaska's Native arts for Native Peoples' personal and ceremonial use as well as for the general public."
The campus, which will encompass approximately 6,000 square feet, will house indoor and outdoor space for artists to make Northwest Coast art pieces, such as totem poles and canoes; classrooms for art programming and instruction in areas such as basketry and textile weaving and printmaking; and space for performances, Native art markets, an art library, artists-in-residence, faculty, and public gatherings.
Instruction will be offered for both non-credit and credit for students seeking art degrees through SHI partners, the University of Alaska Southeast and the Institute of American Indian Arts. It will also have capabilities for distance learning.
The overall design will incorporate the same traditional and contemporary themes as in the Walter Soboleff Building with art adorning the facility. The campus will include a totem pole and five monumental bronze masks representing Alaska's major cultural groups called "Faces of Alaska."
The street and plaza will also include artistic designs tying them to Heritage Square.