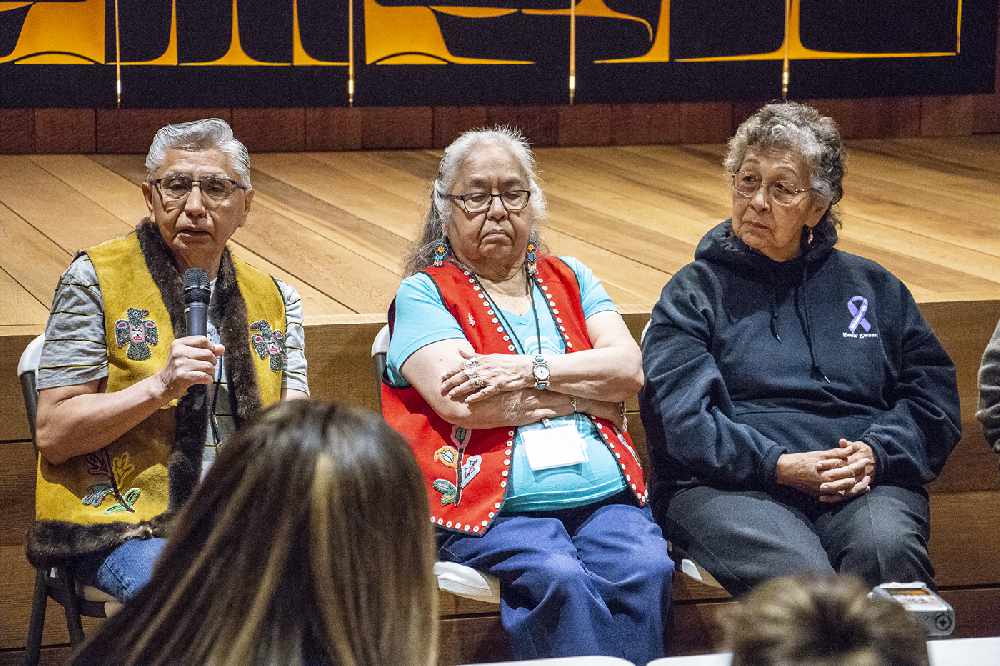 Fluent Tlingit speakers/teachers at SHI's 2018 Tlingit immersion event. From left: Paul Marks, Florence Sheakley and Ruth Demmert. Photo by Jill Meserve, courtesy of Sealaska Heritage Institute.
Juneau, AK (KINY) - In an effort to further promote the survival of Native languages, the Sealaska Heritage Institute are searching for remaining fluent speakers of Lingít (Tlingit), Xaad Kíl (Haida) and Sm'algyax (Tsimshian) living in Southeast Alaska and among the Interior Tlingit who share clan membership with the coastal Tlingit to bring them into Juneau for a language summit.
The event is being called the "Voices of Our Ancestors" and is scheduled for November 13th-15th. SHI will even pay transportation and hotel costs for fluent speakers who attend, as well as provide lunches to participants.
SHI have directly reached out to many fluent speakers, but anyone who did not receive a notification should contact Ralphenia Dybdahl at ralphenia.dybdahl@sealaska.com or 907.463.4844.
The event was organized after Elders were struggling to find other Native language speakers to converse with. SHI President Rosita Worl said in a press release that speakers were calling each other on the phone, just to be able to speak in their Native tongue.
"Linguists have documented much of the grammar and vocabulary, and anthropologists have documented Native place names," Worl said. "However, little has been done to document how people interact through Native languages, such as the movement of their hands and facial expressions.
"Through the summit, we can get glimpses into a world in which only Native languages were once heard. We can hear the multitudes of Native speakers conversing naturally and not just in an instructional voice and mode."
SHI will be filming the summit for preservation and learning through the SHI archives.