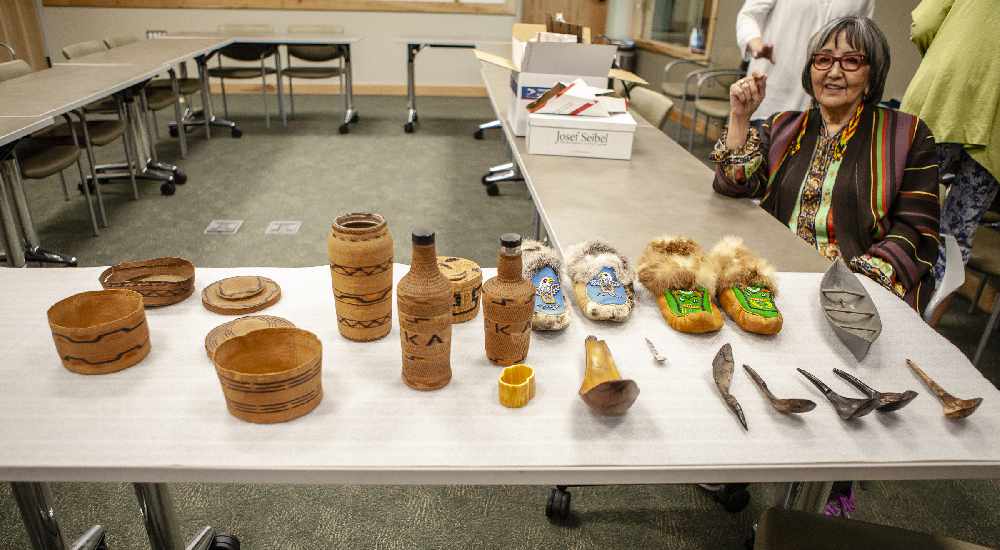 Donated items with Rosita Worl, Ph.D., SHI President, all donated by the family of Hugh Dean Daniels. Photos courtesy of SHI.
Juneau, AK (KINY) - The Sealaska Heritage Institute were able to acquire some new artifacts that will be used to teach new students, enrich the skills of educators, and be scanned into a digital form for potentially a more global sharing of knowledge. 
The collection includes four spruce-root baskets; three bottles with spruce-root weaving wraps; seven spoons, including five horn spoons; two pairs of beaded moccasins; one model canoe; and one bone piece that was possibly used to hold a napkin.
Chuck Smythe, who is the Director of the Culture and History Department at SHI, spoke to us about the cultural and education value of these items and the story of how they came to Juneau.
Smythe first told us about how these items can be used to keep particular styles of weaving from fading into history.
"Weavers can come in and see them and see how weavers of the time made them and learn by example. By seeing these amd trying to duplicate them, trying to represent the type of weaving that's on there, seeing the designs that are on there. It's a great assistance to see things in person and be able to look at them from different angles and look at them from the inside and from the outside and put that together."
"Our instructors also benefit from that because they can draw on them for examples to teach from and to refer students to look at."
One of the champions of keeping weaving traditions alive is Delores Churchill, who teaches lessons to pass on the art.
"She's going to be teaching spruce root gathering and spruce root weaving. There will be two weeks in August and then another week in November. She's the one who started all this with us when we realized this was becoming an endangered art form."
"I think it was in Hoonah that she held the first class for us probably 15 years ago and we're happy that she still doing this."
"There are a lot more basket Weavers out there and spruce root gatherers then there were before."
Smythe tells us that the technology they're using to further archive these objects, help take a deep look into how they are made, even for someone who lacks the physical access of handling the object.
"We've been mainly working with European museums to bring those pieces back here for our artists to work with, to see, and to learn from. A lot of these people don't have the resources to travel to Europe so it's a kind of visual repatriation, but it's very helpful to them because we've learned from our artists that the best way to learn, particularly carving and painting, is by making detailed replicas of older finely made objects."
He pointed to an accomplished artist who attests that much of his skill came from studying masters.
"David A Boxley is a real proponent of that and he's one of our favorite instructors for formline art and he attributes doing that as really contributing to his skills and abilities."
Aside from the prospects of these new items, Smythe says that the family who donated them did it in honor of a family member.
"It's just exciting that we've had different people come forward with us. These donations were something unsolicited. This family acquired these items in Hoonah so if they had a connection there and wanted to bring these items home."
Those donors were Stephanie Cady, Patricia Maxwell and Michelle Campbell, originally from Hoonah, who made the donation in memory of their brother, Hugh Dean Daniels III, who recently passed away.