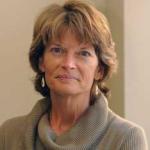 Juneau, Alaska (KINY) - Alaska U. S Senator Lisa Murkowski voted not to convict President Trump at the conclusion of the impeachment trial in the upper body of Congress.
She was asked why on Action Line. After considerable review of the witness testimony that was provided; the documentation that was provided; the multiple days of impeachment court; the Senator said she determined that she could not vote to convict the president on the two counts, "I do acknowledge that he did engage in actions that brought dishonor that I felt were shameful in many regards and wrong, but removal of a president prior to the election is not a matter that I felt was established. Sixty-three million voters are going to have an opportunity here in about nine months. They will make that determination."
The senator explained what she would have liked to have seen done. "In fairness, I wish that the House had moved forward with a censure motion recognizing that that was a path that perhaps could have generated bipartisan support. I think it is important for people to recognize this was the first impeachment that has ever been wholly partisan. It was delivered from the House on a wholly, wholly, partisan basis and that partisanship just continued to go downhill once it left the House."