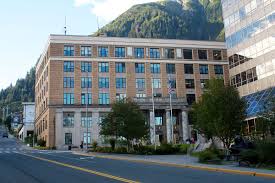 Juneau, Alaska (KINY) - Monday's legislative debate resulted in lawmakers sending Governor Dunleavy yet another operating budget bill to consider.
During its debate, the State Senate opted for a Permanent Fund Dividend of about $1,600.
The Senate Finance Committee had voted 5 to 4 for a $3,000 dividend as proposed by the Governor. An amendment was offered to lower that figure.
The amendment was approved on a narrow 11 to 9 vote.
Other amendments restored funding for the school debt reimbursement program and for maintenance of rural schools.
Over $300 Million of funding vetoed by Governor Dunleavy was restored in HB 2001.
The full bill was approved 17 to 1 with Anchorage Senator Lorna Reinbold the lone dissenting vote.
A short while after the Senate debate, the House concurred with Senate changes on a 23 to 15 vote.
There was a motion to adjourn until Wednesday, but members of the minority amended the motion to call for a sine die adjournment to bring the special session to a close.
The amended motion was defeated 23 to 15 so the House will be back in session again Wednesday morning.
----
Meanwhile, Governor Dunleavy calls the legislative action a "dark day" for the PFD and for Alaskans who support the PFD and for those that are looking at a sustainable budget. The added that the "add-backs" take the state in the other direction.