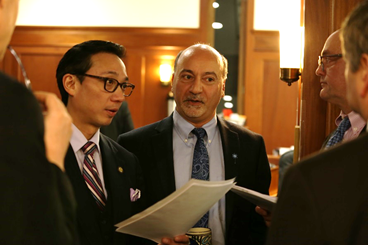 Sen. Scott Kawasaki introduced the bill on Wednesday.
Juneau, Alaska (KINY) - Senator Scott Kawasaki (D-Fairbanks) introduced SB 102 on Wednesday to implement a temporary, voluntary retirement incentive program to increase state savings by allowing public employees to retire early.
According to a release from press secretary Noah Hanson, longer serving public employees are usually higher paid in the state. In many cases, pensions paid to retired employees cost the state less money than their current salaries. Providing higher salaried employees the option to retire early would save Alaska money through lower personnel costs.
"Alaska still faces a significant budget deficit and taking an ax to essential services and claiming we all need to live within our means is taking the easy way out. We need to seek creative solutions to close that gap," said Sen. Kawasaki. "A retirement incentive program is a good way to save money, shrink the government payroll and balance the budget all while preventing layoffs. Instead of laying off the lowest paid employees, older, higher-paid employees who want to retire can choose to do so."
Instituting a retirement incentive program will provide an opportunity for more junior public employees to fill those vacancies left by early retirees. Senate Bill 102 applies to school districts and public employees, including the University of Alaska. The program allows state employees to retire three years early at the discretion of the administration.
In 1986, Senator Jim Duncan passed legislation creating a temporary retirement incentive program.
A Legislative Audit of the 1989 Retirement Incentive Program demonstrated a savings of $22.9 million with 1,764 individual participants. In 2016, the Judicial Branch implemented a retirement incentive program and saved more than $680,000 across 14 positions.
Retirement incentive programs are regularly used in the private sector to efficiently control personnel costs through market incentives rather than heavy-handed layoffs.