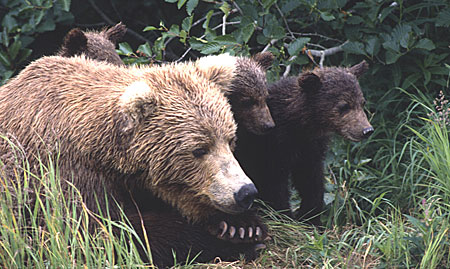 A group of Alaskan Brown Bears.
Juneau, Alaska (KINY) - For the second time in recent days, the Alaska Department of Fish and Game received a report of a brown bear in the Salmon Creek Trail area.
On Wednesday, May 22, a party of hikers reported seeing a large brown bear along the shore of the reservoir. Three days earlier on Sunday, May 19 a man reported being bluff charged by a brown bear about 1.5 miles from the Egan Drive trailhead.
Brown bears are uncommon along most Juneau area trails. Because this is a heavily used trail and the holiday weekend is approaching, Fish and Game advises caution in this area.
This most recent report suggests a brown bear continues to use the Salmon Creek area and that hikers should either avoid the area or exercise appropriate caution; travel in groups of four or more people, carry bear spray and make lots of noise to avoid surprising a bear.
Dogs add an unpredictable and often uncontrollable element to bear encounters. If hikers choose to bring a dog it is recommend keeping them on a leash.