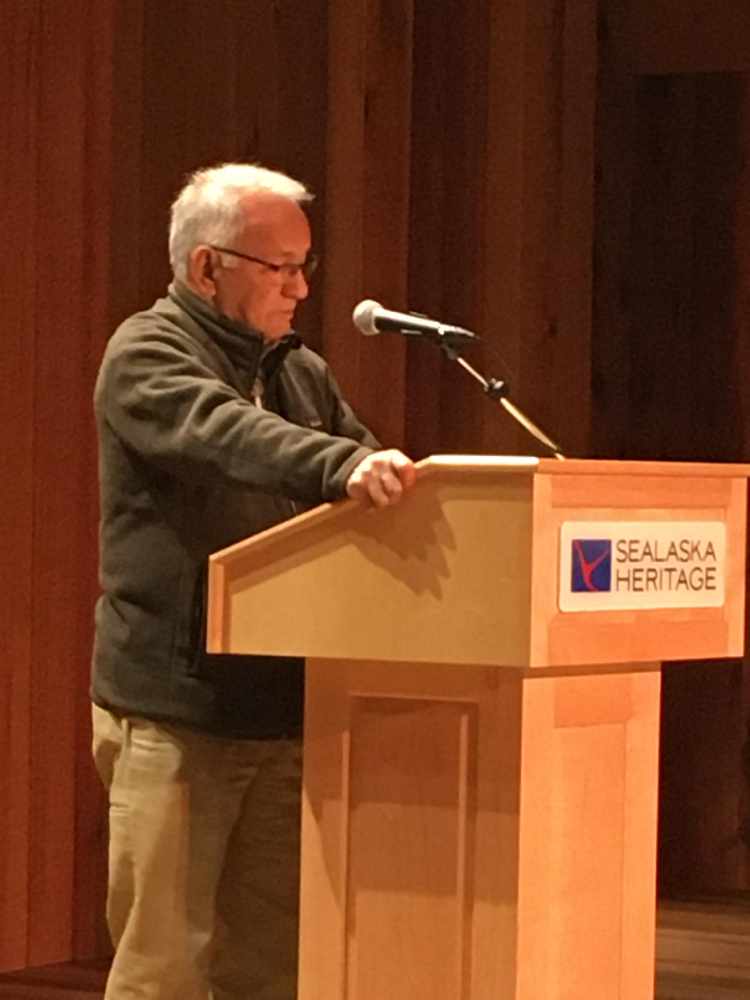 Emil Notti.
Juneau, Alaska (KINY) - Notti spoke at Sealaska Heritage Institute as part of the Native American Heritage Month lecture series.
Notti cast the tie-breaking vote to enter Sealaska and Tlingit and Haida into the Alaska Federation of Natives.
Notti will also speak at the Alaska State Museum Wednesday at 5:30 pm on the same subject.
ANCSA signed into law by President Richard Nixon in 1971 constituted at the time the largest land claims settlement in United States history. ANCSA was intended to resolve long-standing issues surrounding aboriginal land claims in Alaska
Notti spoke about the many problems Native people have faced in Alaska like poverty and culture change. He noted many lost parts of their heritage when they weren't allowed to fish. He said laws many times worked against Native people.
Notti said there was discrimination for jobs. State employment for Natives was only four percent at one time.
He pointed to poverty and homeless in Anchorage. "Today we still have the same problem. Look at the number of people on street corners begging for help, 13 people in one day counted, looking for a handout. A wealthy state, homeland to their ancestors and people sleeping on cardboard out in the snow. The state should be alarmed by that."
Notti said part of the problem is a lack of job training. He pointed to Canada's decision to provide more job training as something Alaska should consider.
Notti said the State is trying to bust up unions, cut money for education, and promoting resource development. He questioned the advantages of development. "400,000 people have come to the state but villagers didn't get many jobs, they used resources of Alaska, people that live here didn't benefit in the same ratio.".
Notti pointed to Sitka where they developed a pulp mill. They had a population of 3,000 people at the time. He said the population grew to 6,000 when the mill was opened. Now there are more people unemployed there than before the mill opened.

He said the Sitka budget increased as did the need for water and sewer, electric, high schools and police. Development doesn't solve those problems.
Notti said the pipeline promised to solve problems but today there are more unemployed people in Alaska than before the pipeline. He added that the state budget totaled $300 million in 1970. There was no deficit spending. Today the budget is $12 billion with large amounts of deficit spending.
Notti said southeast communities could have small sawmills to provide year-round jobs. He said southeast could have small timber cuts, without clear-cutting. "It could keep communities healthy with employment year-round. We like mega projects it seems."
Notti said for 200 years Native Americans have experienced high unemployment rates, poor housing, poor infrastructure, high infant mortality, high rates of alcohol and drug abuse, and nothing has solved these problems.
He also recalled the years of effort in court and in Congress to get support for Native Land Claims.
The White House approved 40 million acres of land.
"The US spent hundreds of billions to create Israel, how could they do less for the people that owned North America," he added.
He noted it was a news story for five years and much of it was negative, "The Chamber of Commerce mocked us, newspapers mocked us, stories every day for five years on land claims."
Notti thanked former Supreme Court Justice Arthur Goldberg and former US Attorney General Ramsey Clarke, for the help they gave in getting the bill past.
Notti said there was a lot of opposition to it in Alaska.
His tie-breaker vote brought $7.2 million and 290,000 acres of land to Native Corporations in Southeast Alaska.
Notti emphasized the most important element of the deal was the land. He said without land, Native people would be lost.
Notti told the crowd that Natives will endure as a people. "You strengthen language, arts, dancing and culture. You will thrive because of your own efforts, your honor, your honesty, your sobriety, your support of each other and your culture.
President/CEO of Sealaska Heritage Institute Dr. Rosita Worl praised Notti and presented him with a gift box built by Kodiak artist Aaron Phillips.
"We owe you for our land, Emil Notti will always live in our hearts, our children are going to know him, know the deeds he did for Alaska native people and southeast Alaska natives," she told the crowd.