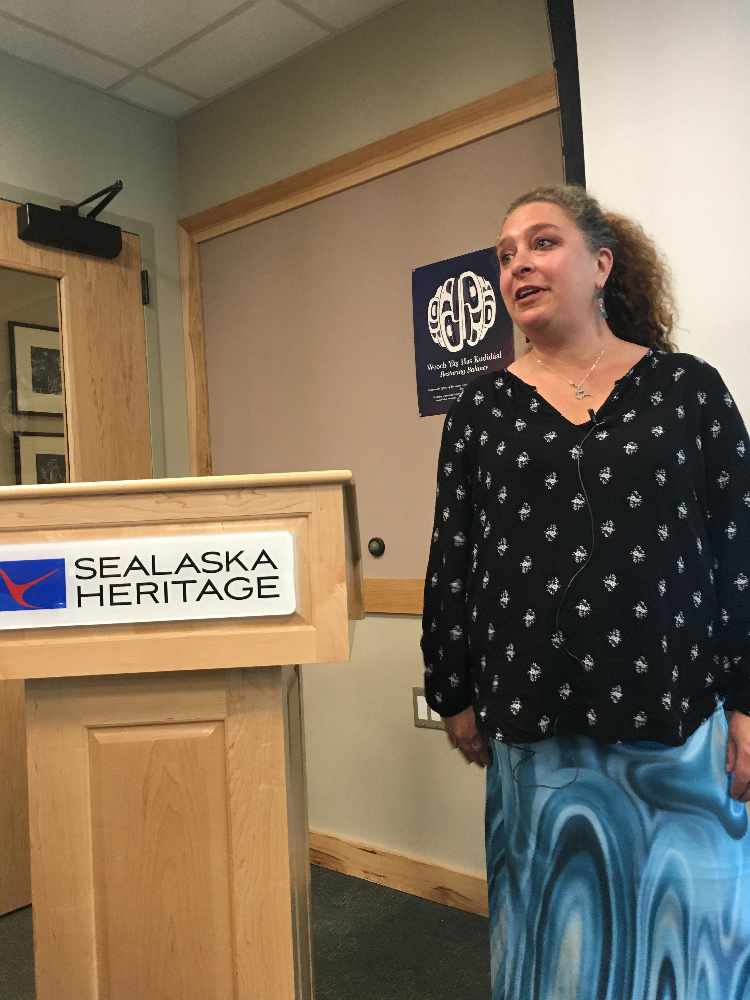 Brenda Thayer gve a 50-minute presentation Tuesday (Photo credit to Charles Murphy).
Juneau, Alaska (KINY) - Brenda Thayer of Yakutat, Program manager for SEARHC in Sitka, spoke on Historical Trauma, An Overview and impact on Alaska Natives Tuesday.
Historical trauma is defined as cumulative emotional and psychological wounding over the lifespan and across generations and involves unresolved grief. It is transferred by the adoption of other cultures, loss of language, and discouragement of cultural practices. Boarding schools that separated families was one of the causes.
A study in 2004 found historic trauma had a great impact on Native Americans. 36 percent had daily thoughts about the loss of traditional language, 34 percent experienced daily thoughts about the loss of culture, 24 percent reported feeling angry regarding historical losses, 49 percent had disturbing thoughts related to these losses, 46 percent had daily thoughts about alcohol dependence, 22 percent indicated they felt discomfort with white people. 35 percent were distrustful of the intentions of the dominant white culture.
Many in the crowd said these numbers are too low.
There are 229 tribes in Alaska registered with the Bureau of Indian Affairs. Traumas that occurred to Alaska Natives included colonization, missionaries, boarding schools, and World War II and internment camps.
Russians brought influenza, smallpox, sexually transmitted diseases, alcohol, and tuberculosis. Several tribes were nearly depleted due to murder and the white man's diseases. Alaska native families were torn apart thanks to slavery, unwanted pregnancies, and starvation. Alaska natives had no input when Russia sold the land to the United States.

Thayer said missionaries had an objective to turn savages into civilized people. Alaska Natives were told their way of being was evil and that they had to convert to the way of the missionaries. Children were forced from their homes, often with no advance notice, and sent to missionary schools. Priests and Pastors who were accused of sexual molestation were sent to Alaska villages to get rid of them according to a 2018 story in the Anchorage Daily News.

Children who were sent to boarding schools had no communication with family. They were punished for doing or speaking any of their cultural beliefs. Physical, emotional, psychological and sexual abuse were not uncommon.
Alaska natives on the Aleutian Chain were bombed by Japan. They were later placed in internment camps in southeast Alaska. Their homes were set on fire. After the war, they returned home to destroyed villages.
There were separate schools for white and native children in villages.
A study found the more trauma experienced by a kid leads to high rates of chronic pulmonary lung disease, hepatitis, depression-240 percent and attempted suicide-1220 percent. Suicide remains the fifth leading cause of death in Alaska. 197 suicides, 76 homicides, 156 alcohol-induced, and 154 drug-induced deaths in Alaska. Many suffer from PTSD or post-traumatic syndrome disorder.

Thayer said they are moving forward thanks to groups like Sealaska, a cultural rebirth, language revitalization, becoming a political force, economic pressure and Native Corporations, native pride, native awareness, helpers from within the culture, regaining their land and regaining native sovereignty. "We have to support and help each other, come together as a group, and help each other. We all want the same thing, we want to heal, we have unresolved grief, let's help our children and come together," she added.

Traditional protective factors include family roles, learning and participating in family, structures, and traditions, learning family history, learning to communicate with elders, learn native ways to show respect, learning tribal arts like carving, canoe making, drum making, and totem poles and food gathering like picking berries.
Others include traditional song and dance, and learning more about Native history and culture.
A study on the impacts on Native DNA by colonialism is going on in southeast Alaska testing Hoonah residents. It is called the Epigenomic Effects of European Colonization on Alaska Native Peoples.