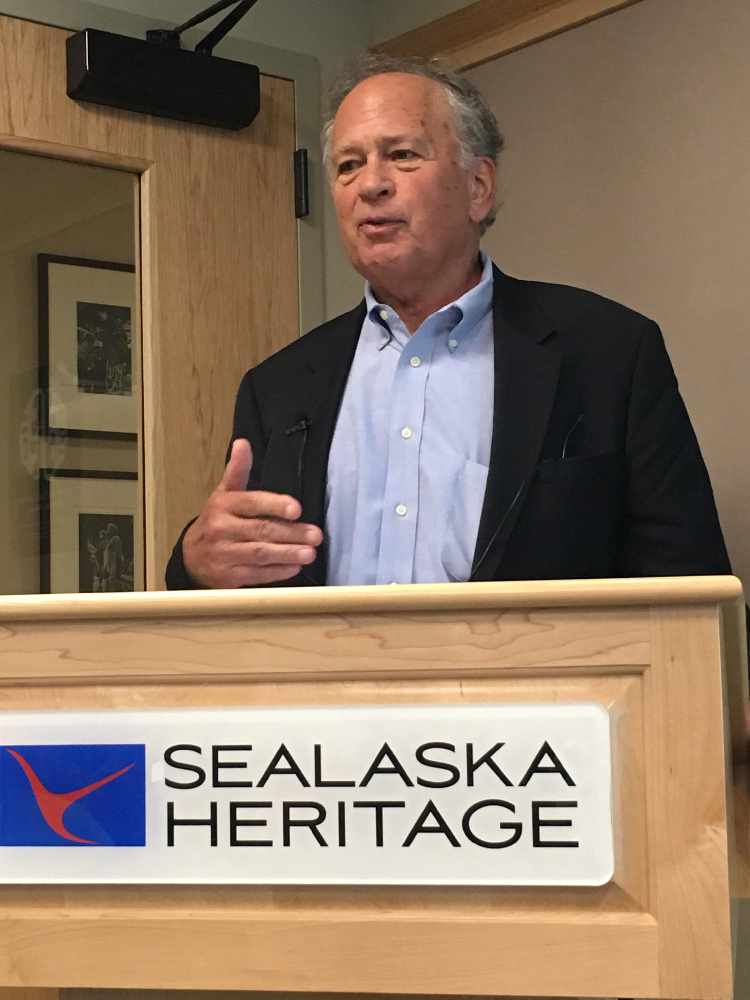 Daniel Press speaks at the Walter Soboleff Building Tuesday (Credit to Charles Murphy).
Juneau, Alaska (KINY) - Attorney Daniel Press began his legal career working for the Navajo Reservation, saw the issues there, and has devoted much of his career to helping Native American causes.
He became disturbed by high drop out rates, high rates of poverty, and high rates of suicide in the tribe. He learned about the ACE study. It stands for adverse childhood experiences. He learned trauma turned out to be the root cause for these problems.
Native American communities lead the nation in many of these problems.
"I had some inkling about the kinds of problems that hadn't disappeared."
Press said to get rid of childhood trauma you must prevent ACE's by promoting good parenting, you must train pediatricians to identify trauma in young children and get them the referrals they need, teaching children and adults who suffered from trauma ways to cope or be resilient. Other solutions are traditional healing practices like ceremonies, sweat lodges, and talking circles.
Press said communities need to implement a comprehensive integrated trauma-informed program where every institution in the community is implementing trauma-informed programs in coordinated ways. "It takes a village to create a trauma-informed program," he added.
The Menominee Tribe implemented a comprehensive trauma-informed initiative and saw the high school drop-out rate go from 40 to five percent, the number of pregnant teenage girls declined from over 20 to five per year, and the rate of teenage drinking declined substantially.
Press explained that 'Colonialism' broke down the warrior spirit of Native Americans to solve problems. It takes both the western medicine and addressing the underlying historical trauma, to solve the issue. "You need to put together a community-wide trauma initiative, where every institution in the community is implementing a program."
The programs must include traditional healing practice, and trauma-informed education, health, workforce, parenting, addiction programs and courts.
Press spoke at Sealaska Tuesday about a lawsuit in US District Court in Arizona. The lawsuit claims the Native kids suffered trauma that is a disability under the American Disability Act. If successful in court this would require any entity that received federal funds to provide services for trauma. The tribe sued the Bureau of Indian Education. There is a legal obligation to help those kids overcome trauma.
So far the court has found that the plaintiffs adequately alleged that complex trauma and adversity can result in physiological effects constituting a physical impairment that substantially limits major life activities within the meaning of Section 504 of the Rehabilitation Act.
"The government will try every trick in the book. They are throwing all the crap they can at it to try and defeat it. If they really care they would say we agree with you, let's settle the case, and go to Congress to get the money to provide the compensatory services."
If you can show colonialism can cause changes like this every government agency will be forced to address historical trauma, he added.
"It is going to be the native communities doing it, but you could have all the resources of the federal, state and local governments to help you."
It will be a game-changer. Your study won't tell you anything that you don't already know. The court will only believe it when it is proven by scientists."
Once you have a national movement, you can then advocate with Congress to get enough support to get the resources you need to make the changes and implement the kind of programs we talked about, he added.
He explained there are three main legislative programs that are addressing this issue in Congress.
He praised U.S Senator Lisa Murkowski for her support of programs that address historical trauma.
One was creating an inter-agency task force on opioids. It was not funded by the Trump administration. The Rise Bill resilience, investment, support and expansion from trauma act of 2019 has been proposed Grants are available to create trauma study groups. Teachers and social workers can learn about trauma.
Another trauma program is championed by Congressman Elijah Cummings. He recently hosted the first-ever congressional hearing on trauma.
The third program creates a trauma-informed initiative in three Alaskan villages. Senator Murkowski holds a key position on the Senate Committee on Indian Affairs.