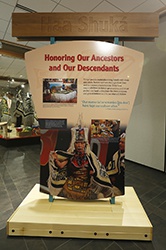 Juneau, Alaska (KINY) Sealaska Heritage Institute donated eight large panels that depict ancient Southeast Alaska Native core cultural values to Floyd Dryden Middle School during an Assembly Wednesday.
Principal Jim Thompson said his school greatly appreciated the gift. He urged the students to think about respect, responsibility, relationships and resiliency. "This gift is about a relationship, one we've had for the four years that we've had since I came here and I appreciate that relationship. It is important that we honor the relationships we have inside and outside of school because it benefits all of us."
Indian Studies Director Barbara Cadiente-Nelson said the reason for the ceremony was because something very significant was happening, "Its an acknowledgement of the leadership of this district and the principal and school. "We are standing on (native) lands. There is a way to behave when you enter a guests home. There is a way to interact. That way can bring you great success academically and in your all the different aspects of your life."
The Core Cultural Values include
Haa Aani, our land, honoring and utilizing our land.
Haa Latseen: Our Strength, strength of body, mind and spirit.
Haa Shuka: past, present and future generations, honoring our ancestors and future generations.
Wooch Yax: balance, social and spiritual balance.
The panels, which stand five feet wide and nearly seven feet tall, were a main feature of the SHI's first exhibit at the opening of its Walter Soboleff Building in 2015.
The students got to enjoy Native songs and dance. The songs were about respect and opening the box of wisdom.
SHI President Rosita Worl told students it was with great honor that Sealaska and Sealaska Heritage gifts the four core cultural values to a great school, "Many students from this school are already making great contributions to our society. We wanted to bring these panels to you because we know it is important for people to understand that there are many different cultures in Alaska. It is important that we learn about different cultures for that is what gives us strength as a people and as a nation, that we can live in harmony with diverse cultures."
Chairman of the Sealaska Board of Directors Joe Nelson said he wanted students to become teachers, educators and principals. He encouraged them to work hard in school. "The Corporate world and the western world, Microsoft and Walmart are all about money, largely about making a lot of money quickly. The native world is about you, the children you are going to have and the grand children you are going to produce."