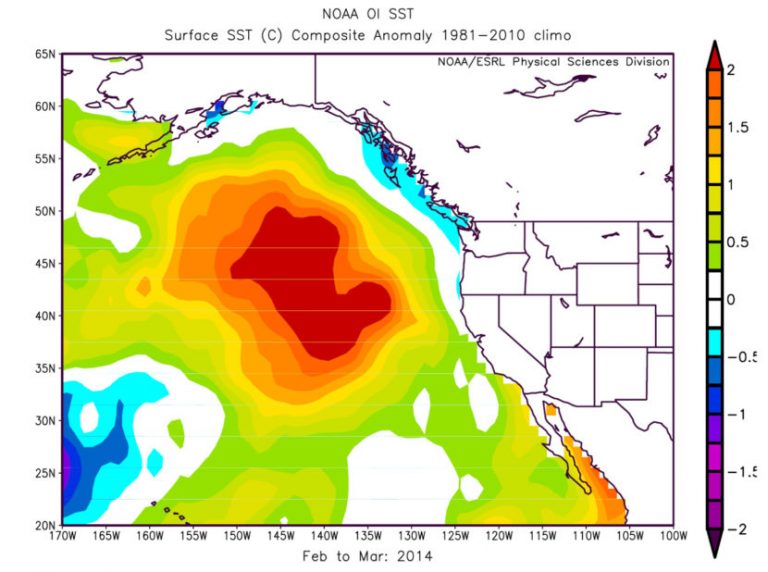 Image courtesy of NOAA/ESRL Physical Sciences Division at Boulder, Colorado
Juneau, AK (KINY) - Jim Murphy, a fisheries research biologist with NOAA spoke on the ocean blob that impacted Southeast Alaska in the winter of 2014-2015.
The blob was caused by El Niño and a change in the jet stream that led to the warmest water temperatures ever recorded in the Gulf of Alaska. This phenomenon was also the likely cause of large death rates in seabirds and shellfish poisoning.
Murphy says that there are still some pyrosomes around. These cylindrical.- shaped creatures caused quite the stir among fisherman and then disappearing.
"They were seeing pyrosomes this last winter. I think at this point, the numbers are not nearly where they were where they were in full bloom, but they're still around."
Murphy also explained some of the changes seen in Alaska.
"We didn't see the waters warm as much in the inside waters of Southeast Alaska. We actually saw temperatures increase in 2016, but definitely, the waters warmed up at a very rapid rate in the outside waters in Southeast, but not so much the inside waters. I think that some of the rainfall, the glacier discharge, and things like that help temper the inside waters from becoming so warm."
The blob also brought a lot of new species to Alaska waters including pyrosomes, California market squid, sea butterflies (a marine snail), sea elephants, ocean sunfish, and dagger tooth fish which love to prey on salmon.
Murphy wasn't sure about what sort of lasting impacts the blob could have on Alaskan sea life.
"I don't think we fully understand the impact of the blob. It's really hard to say if there's a lasting effect. Inevitably, a change like that is not going to be fully felt or realized. Some fish that are longer-lived, you may not even notice an issue in that period until they start recruiting back to the adult stage."
I do think that we'll probably continue to see some aspects of marine environments that will have some last effect from the blob."